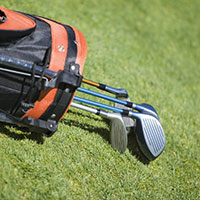 Golf club-wielding attacker takes plea bargain
STORY BY ALAN SNEL

A golf club-wielding attacker who assaulted a former girlfriend and her date outside Maison Martinique in November 2012 will be sentenced in August.
Danny R. Morgan, 64, had been charged with attempted first-degree murder for his vicious golf club attack on local Realtor Vicki Bristol and her date Randy Rudish. Rather than face that charge in court, he has now taken a plea deal from prosecutors, pleading guilty to two counts of aggravated battery and one count of aggravated assault.
Before Morgan made the deal, he had entered a plea of not guilty by reason of insanity, said Morgan's lawyer, Andrew Metcalf.
"I can't comment on the chances of his success if the case went to trial, other than to say that the plea entered in this case was in Mr. Morgan's best interests," Metcalf said last week.
Assistant State Attorney Michelle McCarter, who handled the case for the state, said if the sentences for the three counts run consecutively, Morgan could face as much as 35 years in prison.
Bristol and Rudish first met at the Blue Star Wine Bar the evening before the attack.
At that time, Morgan caused a scene, saying rude things to the woman who had broken up with him the previous summer. The rants got Morgan escorted from the tapas bar.
The next day, Bristol called police to report that Morgan was following her.
Later that night, the angry ex-boyfriend ambushed Bristol and Rudish outside Maison Martinique.
One witness to the attack estimated that the club struck the couple a dozen times with such ferocity that the head of the 3-iron broke from the shaft.  When police arrived at the Caribbean Court Hotel where Maison Martinique is located, Rudish was still protectively flung over Bristol, covered in blood, with a laceration on his head that left his skull exposed.
A valet at the restaurant heard the screams and attempted to wedge himself between Morgan and the couple to try and stop the assault.
Morgan then swung hard at the valet, hitting him in the leg before running off still clinging to the shaft of the club.
The valet chased Morgan and was able to provide police with the make, color and license plate number of his car.
A warrant was issued for the assailant's arrest, but Morgan, who had been renting a trailer in Winter Beach after returning to the area from New York several weeks before, eluded police for four days.
During that time, he sent threatening emails to Bristol, telling her she better "have eyes in the back of her head" to avoid another attack and threatening to kill himself.
Morgan eventually turned himself in and was charged with attempted first-degree murder for the brutal attack.
He is scheduled to be sentenced Aug. 26 at 9:30 a.m. in Judge Cynthia Cox's courtroom.