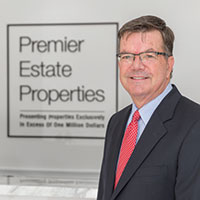 Orchid Island broker to Premier
STORY BY STEVEN M. THOMAS
Photo: Bob Niederpruem.

A few days after the sale of Orchid Island Realty closed on July 1, the company's longtime broker, Bob Niederpruem, moved his license to Premier Estate Properties, where he plans to continue selling homes in the north island club community while also expanding his business into other parts of Vero's dynamic real estate market.
"We are very excited to have Bob join us," said Premier Broker-Associate Cindy O'Dare. "Every office in town wanted him and we feel very lucky he chose us."
"It was a hard decision," says Niederpruem. "There are a lot of great real estate companies here, but in the end I felt like a small boutique firm focused on the luxury market would be the best fit for me.
"That million and above [home category] is the target audience I am going after; it is a perfect fit for Orchid Island where I will still concentrate my efforts. Premier has an excellent marketing program, with their affiliations, that will be good for the folks up in Orchid."
Torwest, developer of Orchid Island Golf and Beach Club and the neighboring community of Windsor, sold Orchid Island Realty to the club for $250,000 in a deal that closed July 1.
Torwest had leased a suite of offices for Orchid Island Realty in the community's oceanfront clubhouse for the past four years and the expiration of that lease seems to have been the catalyst for the club's purchase of the company with the aim of increasing sales and property values.
"We are very excited about the opportunity this will give us to shape the sales and marketing operations of the business, which we believe will make it even more effective in selling properties here at Orchid Island," said Club President Suzanne Albani in a prepared statement.
"Going forward, we intend to put a greater emphasis on marketing efforts than has been done in the past, as well as improve our relations with outside realtors. One change we are planning in this regard is to enhance our commission sharing arrangement with outside brokers in order to be consistent with other real estate companies in Vero Beach. This should encourage outside brokers to show Orchid Island properties to their clients."
The business, still called Orchid Island Realty, has been re-organized as an LLC run by a board of managers composed of club officers and the broker. The board is looking for a new broker/manager and expects to have someone in that position by next winter's peak sales season. In the meantime, Broker-Associate Heidi Levy will manage sales for the company, which has approximately 35 active listings.
"I had a great 20-year run," says Niederpruem. "I came to Orchid Island when only 10 homes had been built, and feel I was instrumental in the sale and development of the club. I was involved in the sale of more than 375 homes and sold in excess of $300 million during the time I was there. But the fact of the matter is the club wanted to move in a different direction.
"I can't look back at this point. I have to look forward, and I am very excited about this new opportunity. It is nice coming to an office with a lot of seasoned pros who are all willing to lend assistance to get me headed in right direction.
"The move opens up new areas of operation for me. Before, I listed and sold property exclusively in Orchid Island. Now, while I will still have my main focus in that area, if I have a client who wants to look at an estate outside of Orchid Island, I can show it to them. I think it is going to be great!"
Niederpruem has done "a great job selling real estate since Torwest took over development of Orchid Island and we wish him well with his future endeavors," said Albani.