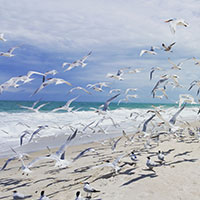 Pristine beaches bringing surge in summer visitors
STORY BY ALAN SNEL

Hotels and restaurants on our barrier island report seeing an increase in business in recent days as the algae disaster to the south diverts tourists to Vero Beach, where the ocean and lagoon are unaffected by the Lake Okeechobee pollution that is plaguing Stuart.
A day after Independence Day, the Caribbean Court Boutique Hotel used Facebook and three exclamation points to tell the world: "Our Beaches are Open!!!"
With the toxic blue-green algae in Martin County's waterways making national TV news, Vero Beach hotels such as Caribbean Court and South Beach Place wanted to spread the word that the smelly, guacamole-thick sludge has not affected Indian River County's waterways and that they are open for business.
Edyta Zachariasz, Caribbean Court front office manager, said tourists who don't know how far the algae slime in Stuart and the St. Lucie River is from Vero Beach were calling her hotel to get the lowdown on whether the bloom was contaminating waterways in Indian River County.
Zachariasz said she reassured them the algae blooms are miles to the south in Martin County.
Neli Santamarina, owner of South Beach Place, said tourists who had originally booked hotel rooms in the Stuart-Jensen Beach area were calling her boutique 18-room suite hotel to see if they could switch and stay here over the Fourth of July weekend.
"People were looking for rooms north of the algae," Santamarina said. "We were putting it on social media and saying, 'Hey, we're fine.' "
The contamination was created by the Army Corps of Engineers releasing Lake Okeechobee's water down the St. Lucie River to reduce the lake's water level and avoid stressing the protective earthen dike that encircles the big lake.
Zachariasz said that even after they were told the algae was south of Vero Beach, two customers cancelled their July Fourth weekend stays because they thought the green goo-like algae was harming Vero Beach area waterways. But she said she was able to convince other guests to come.
"We explain it's not in our county," Zachariasz said.
On Facebook, her hotel posted on July 5: "We are 48 miles north of the closest closed beach due to algae content," referring to Bathtub Reef Beach, where Martin County officials had warned beach-goers to stay out of the water on July Fourth weekend.
With news like that to the south, guests were calling The Islander Inn on Ocean Drive to see if algae was a problem around here, said Doug Moreton, the motel manager.
"People might want to come up here now," Moreton said.
Brennan Baker, manager of the Nino's Cafe on the beachfront, estimated that he's talked to 10 or 20 guests in the past two weeks who are staying in Vero Beach hotels after cancelling rooms in the Stuart area because of the algae problems.
He said some Nino's customers who cancelled in Martin County are staying at the neighboring Costa d' Este hotel on Ocean Drive. "They made different vacation plans and came here," Baker said.
Though it is something akin to a tragedy for the environment in and around Stuart, the algae goo in Martin County seems to have bolstered Costa d' Este's business during the holiday weekend.
"We experienced record-breaking numbers over July Fourth weekend and we speculate that it was due in part to the fact that beaches further south were closed over the holidays," said Maggie O'Briant, Costa d' Este director of marketing.
Potential customers have called Costa d' Este to inquire about the location of the algae, she said.
"We have received a few calls; guests are happy to hear that Vero Beach remains untouched and open for swimming," O'Briant said.
"Our Florida guests are aware that Vero Beach is far north of the algae-affected areas," she said. "Of the few people that have called [from out of state], they have been quickly reassured."
Still, Zachariasz wonders how many potential tourists simply said no thanks to the Treasure Coast and Vero Beach without calling to find out the situation.
"It might be hard to measure the impact because some may have never called in the first place," she said.