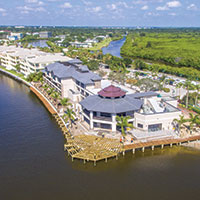 Quail Valley Club's Royal Palm Pointe hotel and restaurant nearing completion
STORY BY STEVE THOMAS
Photo: The new Quail Valley Club hotel and restaurant on Royal Palm Pointe is nearing completion.

The new Quail Valley restaurant and hotel property on Royal Palm Pointe is rapidly nearing completion, and General Manager Kevin Given said it will open, pretty much on schedule, in August. He said it will be "a very soft opening."
The imposing private dining and lodging venue is the club's third facility in Vero Beach. Club owner Steve Mulvey and his partner Given opened a dramatic links-style golf club northwest of town in 2001, followed by a riverfront campus that debuted on the barrier island in 2003 offering a marina, tennis, swimming pool, fitness center, spa, restaurants and overnight accommodations.
The new facility on the former site of the Lobster Shanty restaurant will include a small three-story hotel with 11 suites for the use of the club's 935 members, their guests and families; a striking octagonal restaurant that will have 7,000 square feet of air-conditioned space with another 3,000 square feet of covered veranda for outdoor dining; and a parking facility for 60 cars.
Both the hotel and restaurant will enjoy sweeping views of the Indian River Lagoon.  Quail paid $3.5 million for the prime 1-acre site and Given said construction costs for the Carolina Low Country-style buildings are in the $10- to $12-million range.
A custom-built 26-person launch will ferry members and guests back and forth every half hour between Quail's River Club and the Royal Palm Pointe campus.