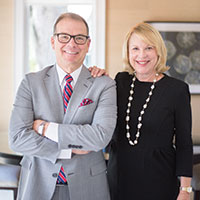 Vero realty team is now 6th in Florida, 79th in the nation
STORY BY STEVEN M. THOMAS
Photo: Clark French and Cindy O'Dare

The exceptional nature of the island's real estate market was illustrated again last week when Real Trend's much-anticipated list of America's Best Real Estate Agents was published. It included more than a dozen Vero agents at Premier Estate Properties, Dale Sorensen Real Estate, Treasure Coast Sotheby's, Coldwell Banker Ed Schlitt Realtor and other brokerages.
Even more impressive, Premier's Cindy O'Dare and Clark French made it onto Real Trend's separate elite list of the 1,000 top agents and teams in the nation.
Partners who joined Premier when it opened an office in Vero in 2008, French and O'Dare sold an astonishing $168.1 million in 2015, ranking 6th among all teams in Florida and 79th nationwide.
They achieved the feat despite being in one of the smaller markets that appears on the Real Trends list, competing with agents in huge markets in Miami, New York and Los Angeles.
There are 12,000 agents and teams on the America's Best Real Estate Agents list. Real Trends President Steve Murray, whose company publishes the list, says the cutoff for inclusion is $20 million in verified sales or 50 transactions for a single agent and $30 million in sales or 70 transaction sides for a team.
Four Vero agents made the single agent list for volume: Matilde Sorensen of Dale Sorensen Real Estate ($53.7 million); Kay Brown of Premier Estate Properties ($31.8 million); Janyne Kenworthy of Treasure Coast Sotheby's ($23.3 million); and Kelly Fischer, also of Treasure Coast Sotheby's ($22.5 million).
The top individual for transaction sides was J. Vance Brinkerhoff of Coldwell Banker Ed Schlitt Realty with 85 transactions. Kelly Fischer was second with 80 sides.
O'Dare pegs her success teamed with French to "a lot of hard work, and good old Real Estate 101," along with effective nationwide marketing and enduring relationships with clients.
"It was as if all our targeted advertising really came together in the beginning of 2015," she said.
"We had more buyers who were seeing Vero for the first time last year than we ever had before," O'Dare said.  "That really speaks to the outside marketing, the website and the direct mail we have done so vigorously for the past couple of years, targeting South Florida, the Northeast and California."
French says market conditions and Vero's growing reputation as the Hamptons of Florida also played a part.
"The Vero Beach market is maturing in the eyes of buyers," French says. "Five or 10 years ago, when Cindy and I talked with folks who were thinking of buying a home in Vero but also considering Naples, Jupiter Island, Fort Lauderdale or Miami, we would lose those buyers to the other markets three times out of five. Now, seven out of 10 who come here and see the town choose to buy here. We are becoming a refuge for high-end buyers."
French noted building height restrictions, low density and cultural amenities, along with the quality of the housing, club communities, dining and shopping as factors that make Vero more desirable than other Florida cities.
"The lifestyle has never been better here," he says.
Carman D'Angelo, one of the co-owners of Premier Estate Properties, a five-office Florida business that sells properties priced at $1 million or more, says French and O'Dare's success is due in part to exceptional knowledge of the Vero market.
"Clark and Cindy are probably the most knowledgeable brokers I have ever known as far as product knowledge goes. Product knowledge is so important – knowing who the sellers and buyers are, along with the history of homes, even if they are not for sale.
"If you are talking direct oceanfront properties down in the estate section, or direct oceanfront in John's Island or in mid-beach, they know the property inside out – how old it is, how many square feet, who built it, when and for how much it has sold in the past, everything. It is like they have computers in their heads!"
"Our success ultimately comes down to our relationships with our clients," French says. "They know we are going to be absolutely professional and they stay loyal to us for decades. We have several clients who we have done eight or more deals with. One thing that makes us feel very good is when we get invitations to birthday parties and weddings and to go on trips with our clients because we become part of their lives as their professional real estate advisors.
"When a client or perspective client comes to town, we make sure their experience is seamless. They are very well taken care of at the hotel. We pick them up at the airport and make sure we take them to the club. We arrange for a round of golf and, if they have kids, a tour of St. Ed's. We let them know they are going to be taken care of from start to finish."
French and O'Dare handled 47 transaction sides in 2015. Fifty-six percent of their sales were oceanfront and 31 percent were of land, if you include homes sold as teardowns. All but three of the sales were in the 32963 area. The largest sale was of the home at 1920 South A1A in the estate section, which closed in October for $17 million.
O'Dare says her favorite sale last year was the historic Lowell home at 2300 Ocean Drive that fronts on the ocean and the Riomar Golf Course, which closed in January 2015 for $6,999,000.
"The reason it was such a source of pride and joy was the relationship I had with the family," she says. "I was good friends with Carol Lowell, who had passed away, and the children are wonderful, down-to-earth people."
French says his favorite sale is always "the next one."
This is the second year in a row French and O'Dare have appeared on the exclusive list known as The 1000. Last year they were ranked 191 among teams nationwide, with $90.15 million in sales.
Murray, of Real Trends, says his real estate services company was founded in 1987. It has put out a top realtor list for the past 11 years. The company requires multiple sources of information to verify sales it tabulates in composing its list of the 1,000 most successful agents and teams, including third-party verification of sales and in some cases tax returns and other documents.
"The Real Trends list is a reliable source," says Michael Thorpe, co-owner of Treasure Coast Sotheby's International Realty.
"We have worked with Steve Murray and his wonderful group," says Gena Grove, one of the island's leading realtors and former co-owner of Norris & Company, which was recently acquired by Berkshire Hathaway HomeServices. "They are very impressive and very hands on. There is nothing about them that is not four stars."