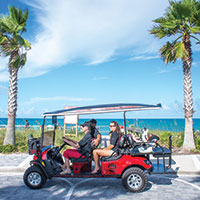 Vero seaplane company sponsors free 'Beachside Ride' jitney
STORY BY RAY McNULTY
Photo: Seaplane company is sponsoring a beachside jitney.

Have you seen the new "Beachside Ride" jitney cruising along the Central Beach business district, carrying passengers to and from local hotels, restaurants and shops?
The owners hope so.
They're using the free shuttle – a sharp-looking, red-and-black, six-passenger vehicle best described as a golf cart on steroids – to promote their start-up business: Treasure Coast Seaplanes.
Treasure Coast Seaplanes, which offers seaplane tours and advanced sea-plane flight training, began operations Monday. The company is awaiting Federal Aviation Administration certification to begin charter air service to the Florida Keys, Bahamas and eventually Cuba.
In the meantime, the company's owners – licensed pilots and flight instructors Michael Hoover and his wife, Sheena, actually met while teaching at Flight Safety in Vero Beach and have a combined 30-plus years of flying experience – are hoping shuttle riders will become seaplane passengers.
"Our basic route is along Ocean Drive, where we can help alleviate the parking shortage and make getting to the bars and restaurants more convenient, but we'll go from the Village Beach Market to South Beach and west to the Riverside Park area," Hoover said.
"It's a regular route, but if we need to go off it a bit to accommodate someone, we can usually do it," he added. "We also do special events."
The Beachside Ride, which began service in May, currently runs from 5 p.m. to 8 p.m. Wednesday through Sunday. During the busy winter months, Hoover said the hours will be expanded to 11 a.m. until 9 p.m.
The shuttle is equipped with a custom-installed, drop-down monitor that shows advertisements for local businesses. The "nominal fee" paid for the ads helps cover the cost of operating the shuttle.
"So not only are we helping with the parking shortage, but we're also helping promote local businesses," Hoover said. "We're also hoping Treasure Coast Seaplanes will give locals and tourists an opportunity to experience the adventure of seaplane flying."
The company currently offers local seaplane rides on a single-engine, six-passenger Cessna 206 that lands at Blue Cypress Lake and in the Intracoastal Waterway.
"Every time I land in water, I remember why I do this," Hoover said. "If I had the option to never land on concrete again, I'd be thrilled."
Hoover said Treasure Coast Air Services, a fixed-base operator on the north ramp at Vero Beach Regional Airport, will be the home base for Treasure Coast Seaplanes and provide aircraft storage, avgas and other general aviation pilot services.
"It's been a long, long road and there was a lot of red tape to get through along the way, but we're ready to go and we're excited," Hoover said. "And the best part is that it's a family affair.
"Not only do Sheena and I fly the seaplanes, but it'll be me, Sheena or my mother driving the shuttle."