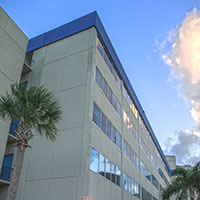 Hospital hires a replacement for ousted No. 2
STORY BY MEG LAUGHLIN / MILTON R. BENJAMIN

In the news-you-hope-will-slip-by-unnoticed category, Indian River Medical Center last week sent out an email at 4:25 on the Friday afternoon preceding a holiday weekend announcing it had hired a person to replace former hospital chief operating officer Steven Salyer, whose short tenure ended in mystery last December.
In the email, the hospital said that Camie Patterson – a healthcare executive with more than 20 years of experience – was selected after a search process that lasted several months, and would join Indian River Medical Center in late July.
Patterson in 2014 became the chief operating officer of two hospitals that are part of the Indiana University Health system, but held that position for less than a year before leaving.  For the past year, she has had the position of "coach" with a healthcare consulting firm, Studer Group.
During her time with Studer Group, the Indian River Medical Center announcement said Patterson coached hospitals "in enhancing employee engagement, patient satisfaction, and leader development." Patterson, who has degrees in both healthcare administration and accounting, earlier served as COO of a hospital in Greenwood, South Carolina.
In her bio on the Studer Group website, Patterson says that while running the hospital in South Carolina, she increased patient satisfaction scores to the 90th percentiles in inpatient, outpatient and the Emergency Department.
The Emergency Room has been a particularly intractable problem area at Indian River Medical Center, which just now is completing the process of dumping an outside management firm and taking over direct employment of physicians and management of the ER in an effort to reduce patient waiting times and improve performance.
The terse announcement of Patterson's selection made no mention of the previous chief operating officer, Steven Salyer.
This past December, Indian River Medical Center CEO Jeff Susi stunned the medical community by announcing that Salyer – widely credited with significantly improving operations at IRMC during his 19 months as chief operating officer – had "resigned." 
Nobody believed the resignation was voluntary – and nobody believed Susi's explanation that Salyer's departure was totally his own idea, and that he had decided "he needed a fresh start."
The surprise termination of Salyer was all the more perplexing because his previous employer, the parent company of Sebastian River Medical Center, had agreed to accept a financial settlement in a suit seeking damages for his jump to IRMC, contending he had violated a non-compete agreement.  The amount IRMC paid in that settlement has never been disclosed.
Neither Susi nor Salyer has had anything additional to say – and the prevailing belief remains that when Salyer "resigned," one more huge financial settlement by the hospital with a departed executive sealed his lips.