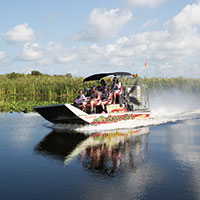 Little done to promote our ecotourism mecca
STORY BY ALAN SNEL

World-class sea turtle watching. The country's first national wildlife refuge. Two ocean inlets offering superb fishing. Boating on the ecologically diverse Indian River Lagoon. One of the world's top osprey breeding sites at Blue Cypress Lake.  Wilderness areas filled with alligators and exotic birds.
It's all here in Indian River County. An outdoor paradise.
You would think with this type of natural resource inventory, the county would be a top ecotourism mecca overrun with hotel- and restaurant-filling tourists flocking into Vero to bird-watch at Pelican Island National Wildlife Refuge, or kayak among bottlenose dolphins and manatees along the Intracoastal Waterway.
But for some reason the area remains little known in the ecotourism world.
Google ecotourism in the U.S. or the Southeastern United States, or even ecotourism in Florida, and Vero Beach is nowhere to be found.
Pelican Island, founded by none other than Teddy Roosevelt himself and one of the great birding spots on the East Coast, drew a scant 110,000 visitors in fiscal 2014-15 – a feeble number compared to the 880,000 visitors who traveled to Florida's west coast last year to visit the J.N. "Ding" Darling National Wildlife Refuge on Sanibel Island.
Why doesn't Vero Beach get more attention as a top-flight ecotourism destination?
Longtime kayak guide and veteran outdoorswoman Kristen Beck of Sebastian says it is, in part, because the Indian River County Chamber of Commerce, which handles tourism promotion for the county, does not sufficiently promote the area as an eco-destination.
She is calling for a new ecotourism development board to publicize the county's rich array of ecological locations and activities, arguing the chamber fails to effectively spread the word about the county's natural resources to other parts of the state and the country.
It's hard to dispute that point when sites like Visitflorida.org and Floridasee.org do not mention Vero or the Pelican Island Refuge in their ecotourism sections.
"It's needed," Beck said of a new ecotourism organization.
Beck said the chamber has focused too many tourism resources on niches such as attracting visitors for destination weddings instead of promoting the county's natural jewels, which could generate big business for restaurants, hotels, retailers and tour operators.
The county's ecological wonders range from the Indian River Lagoon, long considered North America's most ecologically diverse estuary, to Blue Cypress Lake, a top osprey breeding area set in the rural western part of county. The mangrove swamps, maritime hammocks and pine flatwoods on conservation lands west of I-95 offer scenic and inspiring glimpses into Florida's pre-development past.
In North County, the 6,500-acre freshwater Stick Marsh near Fellsmere is a fisherman's paradise, while Pelican Island National Wildlife Refuge traces its legacy to 1903, when it was the nation's inaugural wildlife refuge created to prevent the destruction of bird species by plume hunters.
Meanwhile, the island is one of the top sea turtle nesting sites in the world, a fact celebrated at Archie Carr National Wildlife Refuge, which on its own does manage to attract international visitors from Europe, Australia, Brazil, Mexico and New Zealand to see the prehistoric creatures lumber ashore by the thousands to lay their eggs before vanishing back into the waves.
And for a state with a reputation of not being friendly to bicyclists (Florida typically has the nation's highest per-capita bicyclist fatality rate), A1A both north and south of Vero Beach is a road-cycling haven, while the Lagoon Greenway Trail off Indian River Boulevard serves as an easily-accessible mountain biking attraction.
Few Florida counties can boast so many diverse ecotourism settings. But Beck said they're not getting the publicity and outreach they deserve.
County Commissioner Tim Zorc understands Beck's concerns and suggested the county stage a half-day workshop on how to increase the county's ecotourism profile outside the local market.
Zorc said such an event could help generate answers to questions such as, "Where should we try and reach out to?"
Indian River County budgeted $733,990 for tourism development in the 2015-16 fiscal year, with $454,394 going to the Indian River County Chamber of Commerce and the Sebastian Chamber. In the current fiscal year, the chambers are slated to receive $500,153 to promote tourism of all kinds, with most of the money going to the IRC Chamber.
IRC Chamber President Penny Chandler did not respond to inquiries about how much of that money goes to promote ecotourism, but it appears to be a very small amount. 
The chamber did recently update and extend its website to include information and a sub-site focused on ecotourism (www.comediscovernature.com), but the only ad spending it documents is a half-page ad and half-page advertorial in a single issue of National Geographic.
The Sebastian River Area Chamber of Commerce, on the other hand, devotes a healthy chunk of its resources to selling ecotourism. Sebastian Chamber President Beth Mitchell said the No. 1 question from the 6,000 annual visitors the chamber sees is, "Where is the Pelican Island National Wildlife Refuge?"
To accommodate the increased demand for information about area natural resources, the Sebastian chamber recently completed a $225,000 addition to its riverside Pelican Porch Visitors Center. It's an impressive expansion, complete with large mounted screens showing live streaming scenes from the Sebastian Inlet and the Pelican Island refuge.
But the Pelican Island refuge doesn't "reach out as well as it could" to market its serene 5,445-acre nature haven located along A1A about three miles north of the Wabasso bridge, said Anibal Vasquez, assistant refuge manager of the neighboring Archie Carr National Wildlife Refuge.
Darling National Wildlife Refuge has a free visitors and education center that helps it draw tourists from Sanibel and Captiva, two popular vacation destinations, said Birgie Miller, executive director of the "Ding" Darling Wildlife Society, which supports the west coast refuge.
The Pelican Island refuge does not have an education center or a staffed visitors facility. Instead, it relies mainly on social media such as its Facebook page and "word of mouth" to inform people, Vasquez said.
On a recent Saturday morning, two runners enjoying a jog on the Jungle Trail – a unique and charming old shell road that borders the lagoon for miles and passes through the Pelican Island refuge – said they heard about the national wildlife refuge only through a friend, not through chamber promotion efforts.
A nine-member county committee, the Tourism Development Council (TDC), makes recommendations on tourism spending requests by organizations.
But only one of the nine members has a traditional ecotourism background – Steve Hayes, who used to own an airboat business but has since retired. Most of the members are elected government officials or connected to hotels.
Hayes doesn't think a separate ecotourism development panel is needed.
But he did recommend Indian River County commit more bed tax revenues to promote ecotourism through live Internet streaming of natural scenes around the county.
Hayes also recommended it funnel more money to the Environmental Learning Center in Wabasso to cultivate the next generation of nature lovers.  He further suggested Indian River County pool resources with Martin and St. Lucie counties so there is more money to spend on bigger ads to draw ecotourists to the Treasure Coast region. Other states or regions, he noted, spend lavishly on TV spots targeted at specific markets and demographic groups.