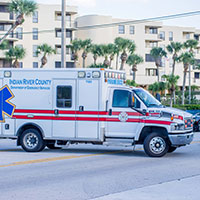 Long-overdue ambulances arrive after scary season
STORY BY LISA ZAHNER | NEWS ANALYSIS

Two of five much-needed new ambulances have finally arrived, eight months after massive vehicle breakdowns revealed that Indian River County officials' tight-fisted postponement of buying new ambulances could be putting lives at risk.
In October, Assistant Chief of Emergency Medical Services Brian Burkeen was called to account after repeated ambulance reliability issues were reported in Vero Beach 32963. He told the Board of County Commissioners at that time, "Three new ambulances are expected to be received in January 2016 and two additional estimated March 2016."
Despite that statement, January, February and March passed with no new ambulances, as did April and May. Earlier this month, the old ambulance assigned to Station 11 near the Orchid Island Golf and Beach Club broke down with a patient in the back. Another ambulance had to be dispatched from elsewhere in the county to pick the patient up for transport to the emergency room.
"On June 1, 2016, while en route to the hospital with a patient with non-life-threatening issues, the ambulance did suffer mechanical issues that left it disabled. Immediately the crews notified our dispatch center of the issue and another ambulance responded to the location and the patient was transferred to a local facility for further medical care," Burkeen said in an email when asked about the incident.
Neither of the two new ambulances will be based at beachside stations. According to Burkeen, one is assigned to Station 7 near I-95, which fields the most calls due to crashes on the Interstate and Turnpike. The second will be assigned to newly-built Station 13 in South Vero. Three more ambulances, the balance of the county's order, are expected to arrive in July. Station assignments for those have not been determined.
With these five units in the rotation, county officials say they will be on track to bring the average age of its ambulances under five years – the key word being "average." That means that, by the luck of the draw, patients could be picked up by a brand-new ambulance, or by one that's getting ready to roll over its odometer for the second time.
"We count on them providing a minimum of five years as a frontline vehicle and then into a reserve/spare status for a minimum of two years. Historically they have over 200,000 miles on them when they are retired from service," Burkeen said.
Firefighter-paramedics who drive and do basic, daily maintenance on the aging ambulances have for years complained that the county was putting patients at risk – that eventually, someone would die in the back of an ambulance due to these equipment failures.
Because the county waited until it was on the verge of an utter systematic failure to order new ambulances – at one point last fall having to resort to using pick-up trucks to transport patients – and because of delays at the Ford factory in Ohio, county residents went through the busy snowbird and tourist season with a largely patched-together fleet of ambulances.
Why has it taken eight months to get two ambulances once they were finally ordered?
"The reason for the extended build time of these units has to do with the Ford chassis being built in the United States for the first time," Burkeen said.  "In 2015, Ford decided to move their truck plant from Mexico into the United States. A plant in Ohio was chosen for this process and the relocation, production line and quality assurance had to be approved by a federal organization.
"This delay caused a delay in our vendor of getting the new chassis and having the specialized parts configured for our specification (i.e. liquid spring suspension, secondary air conditioning system and additional alternator). Therefore a delay in production and delivery occurred," Burkeen said.
According to incoming County Administrator Jason Brown, the ambulances cost $225,000 each, plus whatever medical supplies and equipment are needed to outfit them for service. The budget of the Emergency Services District tops $32 million, but apparently there was no cash available to purchase new ambulances for years, despite the fact that the county bills patients more than $5.5 million annually for ambulance services.
County Commissioner Tim Zorc listens to the fire-rescue channel on a radio scanner and often heard instances when ambulances were out of service. He passes by the county's maintenance yard on his daily travels, and saw rescue vehicles being towed in from the field.
Zorc first brought the matter up early in 2013 and convinced his fellow commissioners to approve the purchase of one new fire engine and one new ambulance. That was the last ambulance purchased until the most recent order was placed in 2015.
"I was fully aware during the Great Recession that we put off buying new vehicles, but at some point you get to a tipping point where there are some things that are literally life or death pieces of equipment," Zorc said Monday.
"We needed to have a catch-up plan of how to we get caught up, and we need an ongoing plan of how we don't get in this shape again," Zorc said.