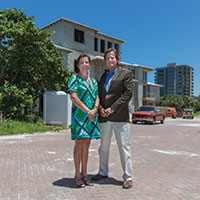 New home development in full swingon southern half of our barrier island
STORY BY STEVEN M. THOMAS
Photo: Kimberly and Michael Thorpe at the Aquavista subdivision.

A boom in new home development on the southern half of our barrier island that was projected by Vero Beach 32963 two years ago is now in full swing, with half a dozen developments underway or close to commencement on North Hutchinson Island.
With prices ranging from $475,000 to $4.5 million, the developments when complete will add more than 130 luxury homes with a total value of over $120 million to the island real estate market.
Vero realtors, builders and buyers are in the thick of the action.
"It's on fire down there," says broker Michael Thorpe, whose company Treasure Coast Sotheby's International Realty represents the lion's share of the new developments. "It is unbelievable what is going on. There is more development in that little stretch of beach than in all of Vero."
The boom is being driven by a shortage of waterfront lots and escalating prices in 32963 and by the quality of the environment and relatively inexpensive land along the 5-mile stretch of sand, palm trees and mature condominium communities that extends from the Indian River County line to the Fort Pierce inlet.
Until recently, development was held back by the address – Fort Pierce for many lacks the cachet of a Vero mailing address – but people are starting to appreciate the value offered on the southern end of the island, where stylish new single-family oceanfront homes are being offered for around $2 million, the cost of an oceanfront lot in 32963.
At the same time, for buyers from other regions, the distinction between Vero and North Hutchinson is much less of an issue when it exists at all.
People from South Florida, the northeast and California who want to live by the ocean in Florida find North Hutchinson ideal, straight out of central casting, a place with wide accreting beaches, little traffic and huge pieces of parkland that will never be developed.
"That is one of the things I love about this stretch of coastline – all the park and preserve land," says Stephen Brinley, a Sotheby's agent who represents Ocean Palms, a luxury oceanfront condo project that has a sales trailer onsite and one presale, so far.
"There are thousands of acres that will never be developed in Avalon State Park, Queens Island Preserve and other parks, which makes the land that can be developed that much more valuable. Another plus is they recently repaved that entire stretch of A1A, and put in bike lanes and sidewalks and new pedestrian crossings. They spent a ton of money on landscaping and it looks really nice."
"This is the last great place left to be developed, coming north from Dade County and Palm Beach," says Thorpe. "People from South Florida look at North Hutchinson Island as a paradise. The beaches are wide and unspoiled, and the residences are a fraction of what they would be in Lauderdale, Palm Beach or Vero."
"Buyers from South Florida are amazed at the prices here. There is no comparison," says Linda Gonzalez, co-owner of Coldwell Banker Paradise, which has an office on North Hutchinson and handles more home sales there than any other company.
The boom got going when George Heaton, developer of the Vero Beach Hotel and Spa and Old Oak Lane subdivision in Riomar, launched Tarpon Flats in 2015. The 38-home riverfront community has been a phenomenal success, with 25 homes sold in 18 months and only 13 remaining.
Gonzalez, whose company has sold a number of the homes in Tarpon Flats, bought a house there herself, one of six buyers from Vero so far. "I absolutely love it," she says of the North Hutchinson lifestyle. "You can jump in a kayak whenever you want and go out on the river or walk across the road to the ocean. The beach is gorgeous and I see a new turtle nest over there every day."
"What's happening at Tarpon Flats is helping push prices higher," says Bob Lowe, owner of Lowe's International Realty Plus, a brokerage on North Hutchinson Island. "Prices keep creeping up, but there is still great value here."
Tarpon Flats' success has inspired developers from around the state to join Vero real estate leaders in launching projects on the island.
Starting from the north, the first project in play is Round Island Plantation, a 31-home subdivision that was entitled in 2007 but which later failed in the real estate downturn. Six of the lots are in Indian River County, the others just over the line in St. Lucie County. A dilapidated wall runs along the A1A in front of the development.
Reese Stigliano, a senior vice president with Brenner Real Estate Group in Fort Lauderdale, says $6 million worth of infrastructure, including a tunnel under A1A connecting the river side and oceanfront portions of the property, is in place.
"We are renewing the expired permits and actively looking for a buyer," he says.
A short distance south, Orlando developer Jeff Gelman is 60 days away from beginning construction on the first of 29 new homes in the Avalon Beach development, according to Thorpe, who along with his partner Kimberly Hardin Thorpe is the listing agent for the project. Single-family luxury homes will start at $699,000.
Next comes Ocean Palms, the condos listed by Brinley. Priced from $1,175,000 to $1,450,000, the 2,400-square-foot units with 9-foot ceilings are exceptionally wide, with 50 feet of Atlantic Ocean frontage. They will be the first new condos on North Hutchinson since 2007.
A mile or so further south, a South Florida developer has two elegant oceanfront homes nearly complete in a 10-home subdivision called Acquavista. Mark Rothenberg of Allenberg Development, a major player in the Delray Beach/Boca Raton luxury home market, is bullish enough on North Hutchinson that he bought all 10 lots and is building the first two homes on spec. One will be a ready-delivery house, the other a model home.
The 4,000-square-foot, 4-bedroom, 6-bath houses are offered with a choice of facades, modern or beachy, and will sell for $2.25 million to $2.5 million. Thorpe, who has the listings, says the first house will be complete in September.
Right next door, husband-and-wife development team Eduardo Leal and Aggie Szymanska are building a 6,850-square-foot modernist estate on a lot with 100 lineal feet of ocean frontage. Vero Beach general contractor Della Porta Construction began the house in December and Leal says it will be ready to occupy by next March.
Szymanska, an agent with Dale Sorensen Real Estate, has the listing.
"We are putting in very high quality materials and finishes," she says. "The house sits on 57 pilings, has oak floors, 12 foot ceilings and an oversize 38-foot by 16-foot swimming pool with spa. There is an oversize elevator, four-car garage and it is a smart home throughout – lights, shades, security, sound system, heating and cooling can be controlled from anywhere," via smart phone or computer.
The couple owns two other lots in the subdivision and plan to begin another house when the current project sells. "We have been getting calls and we are optimistic," Szymanska says.
The next major project is Heaton's homerun subdivision, Tarpon Flats. Single-story luxury homes with 2,400 square feet under roof now start at $475,000, while larger two-story models with 3,400 square feet under roof start around $600,000. Community amenities include a pool and South Seas style pavilion, a kayak launch area and deed beach access.
Meanwhile, at the south end of the island, two game-changing commercial real estate projects appear to be near commencement.
Bob Lowe says he just put an 11.8-acre hotel site under contact to a developer who plans to proceed with a hotel/condo project that will include two restaurants and other public amenities.
The property sold at the height of the boom for $17.9 million, but lost value in the downturn. Las Vegas casino owner Phil Ruffin bought it for $6 million in 2013 and employed Lowe to get it rezoned for a resort. The process took two years, but St. Lucie County Senior Planner Diana Waite says it is now complete.
A development plan will have to be submitted and approved before a project can get underway, but the county strongly supports the idea of a resort at the south end of the island and the zoning will allow a 400-room hotel.
"How cool would that be?" says Thorpe of a resort on the north side of the Fort Pierce Inlet. "If you get the right product and the right hotel brand, that would be rocket fuel for North Hutchinson."
Besides giving locals a place to dine out, the hotel would be a prime source of potential homebuyers. As in Vero, visitors who fall in love with the island lifestyle while on vacation often end up as residents somewhere down the line.
The second project is a 9.5-acre commercial site called Grande Beach, across A1A from the hotel property. Lowe says he has two offers on his desk waiting approval from the bank that owns the property. It is zoned for mixed use, which would include 17,000 square feet of retail along with new housing.
"I understand a lot of people are after that property," Thorpe said. "It would be perfect for a restaurant, bank, cleaners, maybe a little post office, and then you also have residential land with access to water. It is pretty hot. That will get developed."