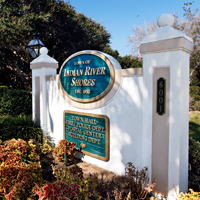 Shores' residents urge state regulators to free town from grasp of Vero electric
STORY BY LISA ZAHNER

The Town of Indian River Shores' petition to review and redraw Vero electric's service territory is set to be heard by the Florida Public Service Commission on July 7, and Shores residents have lodged some very strong opinions with the five members of the Commission, seeking to sway the outcome of the hearing.
Sixty-five Shores residents have filed written comments with the PSC urging the state regulators to allow Shores residents in the southern part of the Town who are served by Vero electric to join residents at the north end of the Town who are served by Florida Power & Light
The Town, filing on March 6 as a customer of Vero electric and not as a municipality, alleges that Vero's territory should be reviewed due to "changed circumstances" based upon the Town's franchise agreement with Vero expiring on Nov. 6, and the Town's and ratepayers' desire to have the whole of the Shores incorporated into FPL's service territory to take advantage of its lower electric rates.
Former Shores Mayor Bill Kenyon, who was at the helm of the Town Council when efforts to sell Vero electric to FPL were in their infancy stage, wrote to the PSC, "You may not be aware, but my community faces a huge electric rate dilemma. I live in the Town of Indian River Shores, and while some of my neighbors are served by FPL, I unfortunately am served by the City of Vero Beach's utility. My rates are 30 percent higher than my neighbors who get their electricity from FPL. You heard that right: 30 percent! And yet our service is nowhere near as good."
Kenyon pointed out that FPL rates are reviewed by the PSC annually – with the PSC typically granting FPL a fraction of desired rate increases – but the rates of Vero and other municipal electric utilities do not get similar review.
"You've done so much to help my neighbors, and I'm sure the work you've done has played a role in keeping FPL's rates down. I'm hoping that you can help us as well. Your website says that you 'advocate on behalf of Florida's utility consumers.' We need your advocacy now more than ever," he wrote.
Retired utilities executive and Shores resident Bill Grealis, who for a time served as the Shores' representative on the Vero Beach Utilities Commission, took aim at Vero's arguments that the Shores has no recourse with the PSC to challenge Vero's territory, or rates, and that the city's rates cannot be regulated.
Grealis argues that for the PSC to simply allow Vero to continue to operate as an unregulated price monopoly, regardless of the will of Shores residents and the Shores Town Council, runs contrary to the very founding principles of the United States, adding that it is an affront to home rule.
"The contentions of Vero Beach, if upheld, will result in a serious 'black eye' to the image of Florida. Why would businesses and residents of other states consider relocating to the state of Florida if the state is perceived as allowing taxation without representation?" Grealis wrote. "Moreover, how can a municipality force another municipality to accept services in perpetuity notwithstanding the expiration of a contractual agreement to do so? Common sense and basic constitutional law would suggest that consent is required before one municipality can bind another for services.
"Vero Beach' claims would render meaningless all contracts and service agreements within the state and bind parties to such agreements in perpetuity," Grealis wrote. "It would turn constitutional and contract law on its head. I urge you to expeditiously grant the relief requested by Indian River Shores."
Robert and Sarah Jane Moore underscored Grealis' and Kenyon's points in their letter, making sure the PSC is aware of the more than $7 million Vero transfers annually, either directly or in shared administrative charges, from the electric utility into its general fund.
"We purchased our home in Indian River Shores in 1998 and ever since we have paid excessive charges for electricity because the city of Vero Beach uses our town to subsidize its expenses," the Moores wrote to the PSC.
"We encourage you to take a look at this territorial agreement that hasn't been reviewed in over 25 years and rule in our favor so that the City of Vero Beach can no longer operate this monopoly to their benefit and our detriment.
"We would much prefer Florida Power and Light to be our electricity provider and they have made a good faith offer to purchase the utility system here and serve the entire town of Indian River Shores," the Moores concluded, referring to the $13 million FPL offered to purchase the roughly 3,000 Vero Electric customers in the Shores. Vero countered with a $64 million figure, which after some wrangling, its attorneys and consultants reduced to $42 million.
The PSC staff recommendation for the July 7 meeting is due out June 23, and by the current schedule, if the process is not protracted, Shores residents would receive some kind of decision by July 28.
Should the PSC agree to open up a full-scale territorial review, Town attorneys have asked the PSC for a public hearing to be held in the Shores so ratepayers can voice their opinions and concerns.