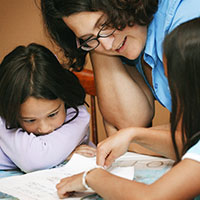 Too few teachers for 'special ed' yields poor result
STORY BY KATHLEEN SLOAN

An outside consulting firm hired to evaluate "special ed" services in the Indian River School District found the district has 30 percent fewer teachers for struggling pupils than similar districts and 40 percent fewer teacher assistants.
The result:  District Management Council of Boston found a "wide" achievement gap between regular students and these students with mild disabilities, non-readers, English-language learners and at-risk students as well as traditional special ed students.  The difference was as high as 44 percentage points for 3rd graders and 52 points for 7th graders – both well above the state average.
Schools here, however, have nearly 40 percent fewer serious incidents with these so-called "exceptional students" than the state average.  But black pupils are "disproportionally" disciplined, according to the consultants, and are almost four times more likely to be suspended than other students in this category.
When Mark Rendell was hired as district superintendent last year, the School Board asked him to make an examination of Exceptional Student Education practices a priority. In response, Rendell hired District Management Council to perform an evaluation.
In its first preliminary report after four months of study, the consultants recommended the School District "develop the capacity of general education teachers to ensure all students receive academic support from a content-strong teacher," implying some teachers don't know their subject.
One way to do this is through coaching, but currently coaches only "work with the willing" teachers, the consultants said, reaching only half as many teachers as they might.
School board member Claudia Jimenez said the number of emotionally and mentally disturbed students is increasing and teachers also need training in that area.
The consultants recommended the district more clearly define the services it offers for struggling students, from the most inclusive to the most restrictive. The continuum ranges from normal general education with no additional assistance to hospital or homebound services.
Then the district should target staffing allocations based on student needs, with Individual Education Plans precisely defining the number of hours of assistance each student needs along with the size of groups in which assistance may be given.