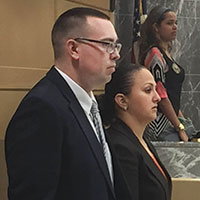 Accused killer Jones may plan to testify in murder trial here
STORY BY LISA ZAHNER
Photo: Michael Jones with his Broward attorney.

Accused murderer Michael Jones' defense attorneys did a masterful job of excluding potentially damaging evidence and got him acquitted of a serious battery charge last week in Broward County. Jones, who is accused of murdering Sebastian River Medical Center nurse and Moorings resident Diana Duve, faces one more legal proceeding in Broward before he is returned to Indian River County for his first-degree murder trial.
Jones, a wealth manager at PNC Bank on Ocean Drive when he was jailed, was found not guilty last Wednesday in a Fort Lauderdale courtroom after trial on a February 2013 charge of domestic battery by manual strangulation – the same method by which the medical examiner says Duve was killed in June 2014.
The case involved another young nurse, Rachel Lounsbery, with whom Jones had an on-again, off-again romance.
Lounsbery testified that she met Jones in August 2012 and just weeks later moved in with him, later leaving him because she found out he was having an affair with his secretary. She returned after getting a call from Jones that he was ill. By Lounsbery's account, she showed up with antibiotics, rekindled the relationship and then Jones choked her and threatened her with more bodily harm.
She escaped to her father and reported the incident to police, but never followed up with detectives. Investigators from State Attorney Bruce Colton's office and the Vero Beach Police Department found and interviewed Lounsbery after Duve's murder. With Jones safely behind bars, they convinced her to go forward with domestic battery charges more than a year later.
A team of Broward County public defenders, assisted by Jones' local defense attorney, Assistant Public Defender Shane Manship, were able to get any evidence or testimony related to Duve's murder, or to a 2012 aggravated stalking conviction by plea deal, ruled inadmissible by Judge Lisa Porter.
These restrictions tied prosecutors' hands, as anything that traced back to how Lounsbery came to be on the witness stand last week was off-limits.
Jones' defense team painted a picture of Lounsbery as an opportunist who saw a well-educated financial planner as a good catch, who then acted as a woman scorned after the breakup.
The fact that Lounsbery failed to respond to multiple calls from Fort Lauderdale police detectives also presented problems for the prosecution. Instead of bringing a more senior police officer to the witness stand to testify about the day Lounsbery showed up accusing Jones of choking her, the state's case relied upon a then-trainee officer who was along on the call.
The officer, upon cross-examination, testified that she did not remember Lounsbery or the incident at all, that she did not remember taking down the police report or taking the photographs of scratches and bruises on Lounsbery's neck, but that she was simply relying in her testimony on what was recorded in the police report.
The lapse in memory by this key witness was compounded by the fact that police had failed to calibrate the camera and the date shown on the photographs was more than two years prior to the incident.
Jones, who appeared in a dark blue suit, light blue striped tie and white dress shirt, was clean-shaven and beyond confident on the witness stand, telling the jury an entirely different version of the events that led up to Lounsbery's visit  to the police station.
He told the six jurors – four men and two women – that he had picked up a woman named Katie at Fat Tuesdays and brought her back to his condominium to have sex. He said Lounsbery showed up and found him with the other female, that a "catfight" ensued and that Katie caused the marks on Lounsbery's neck – all while he stood by and watched.
Jones' story – though impossible to corroborate because he did not know Katie's last name, where she lived or where she worked – combined with the prosecution's weak case, was enough to constitute reasonable doubt for the jury. The panel came back in short order, returning a unanimous verdict of not guilty – to the visible surprise of Jones' own defense attorney.
In the course of the trial, Jones' public defender went after Lounsbery's credibility and her motives – a foreshadowing of a likely attack on the credibility and lifestyle of the murdered Duve. Duve's mother and stepfather were in the Broward courtroom last week, accompanied by a victims' advocate from Colton's office.
In an emotional moment after the jurors were polled, Lena Andrews screamed out in the courtroom, "He killed my daughter! He killed my daughter!" and had to be controlled by bailiffs. The jury was removed via a rear exit of the courthouse as a precaution.
When police tracked Jones to a Ft. Pierce hotel room and arrested him, the initial charge was violation of probation, as Jones was on probation for a 2012 aggravated stalking charge from Broward County and was not permitted to leave Indian River County without his probation officer's OK. Jones was later charged with murder, and in August 2014 indicted by a grand jury on the capital charge of first-degree murder.
In mid-April, Jones is scheduled to face a hearing before Judge Porter for that violation of probation charge, with two Vero Beach Police officers, Det. Lt. Matt Harrelson and Det. Brad Kmetz, set to testify in that proceeding. After that, Jones will be transported back to Indian River County for the first-degree murder trial.
The lead prosecutor in the murder case, Assistant State Attorney Brian Workman, was present for jury selection and for the trial in Broward last week, and watched as Jones was found not guilty.
"Wednesday's verdict in Broward County doesn't impact our intention to go forward and present the evidence surrounding Diana Duve's murder," Workman said. "Our case remains a compelling one and, in the end, it will stand on its own."
While the case has been continued every three months since the summer of 2014, the next docket call on the calendar is set for June 23. "I don't have an estimate on when after that the case will be set for trial," Workman said.
Police say Jones drove Duve back to his Vero Beach condominium, after drinking together in a Vero Beach tavern, and choked her to death there, then loaded her body into the trunk of her own black Nissan Altima and drove the car to Melbourne, leaving it in a Publix parking lot on Babcock Street where Duve's body was discovered by Melbourne police.
Court records and video surveillance footage, as well as cell phone records, show that Jones called a taxi in Melbourne and rode back to Vero Beach in a cab, then drove his own vehicle to the Hampton Inn in Ft. Pierce where he was arrested.
While in the Indian River County Jail, Jones was captured on jailhouse video. During those jailhouse visit conversations with co-workers from PNC Bank, Jones also said that he was looking forward to the opportunity at trial to tell his version of events surrounding Duve's disappearance and death.
After Jones' performance on the stand in Fort Lauderdale and the not guilty verdict that resulted from his "Katie" story, those statements could indicate he's considering taking the stand in the murder trial as well.