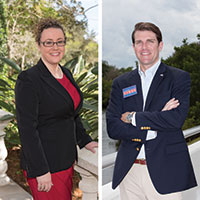 Big Bucks Battle: Candidates vie for seat in Legislature
STORY BY LISA ZAHNER

Candidates for the Florida House seat being vacated by Rep. Debbie Mayfield – all of whom have never held public office – have raised an amazing $350,000 in campaign contributions as of the last reporting period, with local Republicans pretty evenly split between attorney Erin Grall and beachside Realtor, artist and environmental activist Lange Sykes.
In the August primary game, where almost all of the big state and county races in predominantly Republican Indian River County are decided, now is the time to raise the final scraps of cash from seasonal residents before they head back north. Key endorsements should also begin rolling in soon to give one of the two candidates an edge among the still undecided Republican voters and donors.
First-time candidate and Riomar resident Sykes, 30, is winning the money race so far, with more than $175,000 raised, including loans to himself and in-kind donations – nearly all of that local except for a couple of political action committees and $8,000 in $1,000 chunks from various Disney corporations.
Grall, however, is not far behind in the fund-raising derby, nearly $156,000, including loans and in-kind donations. Nearly half of Grall's support comes from the legal and medical communities, including the nearly $20,000 she either loaned herself or donated in in-kind goods and campaign materials.
Rounding out the Republican field is ordained minister and author Dale Glading, who had raised nearly $32,000 – mostly from small donations of $50 or less – at the close of the last reporting cycle ending Feb. 29.
Sykes' rise into public life began with his work to rally local residents on Indian River Lagoon issues and to oppose the Oslo River Boat Ramp, and that environmental bent is reflected in Sykes' ability to reach across the political divide and attract what might be seen as a more liberal base of support than the typical GOP candidate – a factor that could work in his favor should no Democrats or non-party affiliated candidates step up and the August primary remain open.
Though possibly better known for his work on lagoon issues or even his artwork, Sykes' day job is as a Realtor at Alex MacWilliam Inc., where he is teamed up with his mother, longtime Vero Beach resident Carolyn Lange.
Among the easily recognized surnames on Sykes' donor list from the business community are Curtis, Marine, MacWilliam, Busch, Corr, Tripson, Croom, Kahle, Corrigan, Norris, Sexton, Dyer, Linus, Collins, Tozzollo and Hiassen. Many of these people make up what Sykes calls his "Business Coalition," upon which he's built his support.
"Business leaders, not politicians, know how to fix our economy," said Sykes in campaign materials. "Our campaign is blessed to have some of the best and brightest business minds in the country right here in our Treasure Coast community. I look forward to working with them to form the bedrock of the legislation that we will promote in Tallahassee."
Grall, 38, who serves as managing partner at the family law firm her father, Bernie Grall, founded in 1979, enjoys a base of support that centers on the legal community, Vero's professional class, agricultural interests and the core of the Republican party establishment.
Some well-known Vero family names on her donor list include Brackett, Sexton, Block, McCrystal, Hill, Zorc, Schact, Rennick, Sullivan and Vocelle. Grall also has picked up key endorsements from people like Indian River County Tax Collector Carole Jean Jordan, state Sen. Joe Negron and Indian River County Clerk of Court Jeff Smith.
Grall's biggest supporter is Vero resident Robert Stork, an entrepreneur and backer of Gov. Rick Scott, who through various companies and names has given her $5,000. Grall's platform offers up lots of standard conservative fare decrying big government and over-regulation.
"Our state is leading the nation's financial recovery. By removing the barriers to job creation, we will continue to grow the economy," Grall says in campaign materials, promising to make Florida's government more efficient. "Most importantly, we need to safeguard our economic freedoms and get government out of the way of small businesses."
This is Grall's second time up to bat.  She ran for a House seat in 2010 when western Indian River County shared a seat with parts of Brevard County, and lost to Cocoa paving contractor Tom Goodson by less than 300 votes. Grall won 65 percent of Indian River County's vote in that election.
Glading's endorsements come mostly from local Protestant clergy members, and his platform runs heavily toward Conservative Christian rhetoric and values. His campaign motto is "Conservative to the Core." 
Glading lists among his professional accomplishments two unsuccessful bids for Congress in 2008 and 2010 while living in New Jersey. Barring a miracle, Glading would not seem to have a campaign war chest sufficient to compete with Sykes and Grall.
By comparison, Mayfield in 2010 as an incumbent raised $229,000. In 2012 when she was unopposed, she raised $146,000, and in 2014, with no Republican challenger, she raised $226,000.  Much of those amounts came from Tallahassee lobbyists.