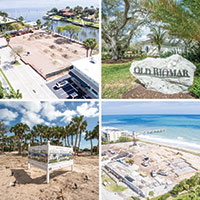 Luxury new home market is red hot
STORY BY SAMANTHA ROHLFING BAITA

Island realtors have been saying for years there is pent-up demand for new luxury homes, and it turns out they were spectacularly right.
Bruised by the real estate downturn that began in 2007, developers were slow to launch new projects in recent years.  But now that a handful finally are underway, properties priced between $1.7 million and $3 million are being snapped up before foundations can be poured in five new developments.
Three of the developments – Surf Club, Sandy Lane and Old Oak Lane – are on the island; the other two – 21 Royal Club and Laguna Village – are in premium waterfront locations on the mainland. So far this season, nearly 20 homes costing up to $3 million have been reserved or contracted for at the five projects.
Besides the desire for newly-constructed homes, which have the latest high-end features and finishes and meet all the requirements of Florida's strict coastal building code, brokers say buyers are motivated by a sense of getting great value for their money.
An important market driver, says Clark French of Premier Estate Properties, is buyer awareness of "the value here compared to other markets such as Miami-Dade, Naples, Jupiter Island, Ft. Lauderdale, New York and California. In Miami, new construction can go for $3,000 per square foot. Here you can get fantastic oceanfront property for well under $1,000 per square foot."
French's partner, broker associate Cindy O'Dare, believes buyer confidence in the project team – developer, designer, builder and broker – is another "very significant" component in creating strong sales momentum at specific developments.
That seems to be the case at Surf Club, the largest of the island developments, where 11 British West Indies-style luxury townhomes will be built along approximately 400 feet of ocean frontage on a prime 2.57-acre parcel at 4700 N. A1A, for many years the location of the old Surf Club Hotel.
The current trend of new homes selling before a project is complete began in 2014 when the East End Townhomes in Central Beach were purchased while construction was still in progress, and the same group that built East End is behind Surf Club.
"Given the demand we saw at East End, it made sense for us to continue with the same type product," said Vic Lombardi, developer for both projects. "We have reassembled the same professional team. Schulke, Bittle & Stoddard will be the project engineer and Gregory Anderson will be the architect, same as at East End."
French and O'Dare sold the East End properties and, joined by fellow Premier broker associate Kay Brown, they have the Surf Club listings. Five of the 3,200-square-foot luxury homes were sold before construction began for prices ranging from $2.6 million to $3 million.
French says buyers range in age from 40s to 60s and have come from as far away as California. Some will be seasonal; others plan to live in Vero fulltime.
Sandy Lane, a single-family home development south of Castaway Cove, has seen similar sales success, with four homes sold before basic infrastructure was installed.
The single-street subdivision will include eight Windsor-style homes and one house on the ocean. The homes not on the ocean – the beach is at the end of the private street – will range in size from 2,900 square feet to 4,200 square feet and are priced between $1.9 million and $2.45 million.
"That is the price for a turnkey home, including the pool and all the landscaping," said developer Dolf Kahle, a broker associate at Premier Estate Properties and former board member at St. Edward's whose family has been developing property in Vero Beach for two decades.
Moulton Layne is the project architect, responsible for the overall community site plan and the design of the individual homes. Lombardi is the builder and French and O'Dare are co-listing the properties along with Kahle.
Home sales can't be closed until homes are complete and a certificate of occupancy is issued, but French says buyers at Surf Club and Sandy Lane have signed contracts and put down non-refundable 20 percent deposits, making the "sales" very solid.
The third island project is George Heaton's Old Oak Lane in Riomar, where four of 10 golf-course properties have been sold. Heaton says the first four homes went for prices ranging from $2.1 million to $2.8 million, with prices escalating according to the quality of the fairway view.
He is selling the remaining six properties as lot/home packages. Buyers close on the lot of their choice – $1 million to $1.3 million – and then put cash in escrow or take out a construction loan for the cost of the house.
Lots in the subdivision are approximately half an acre and homes will have between 3,500 and 4,500 square feet of air-conditioned living space, with as much as 5,500 square feet under roof. Some homes will have guest houses.
Joining in the luxury construction boom is developer Bob Nelson, who is building a four-townhouse waterfront project called 21 Royal Club on Royal Palm Pointe where yet-to-be-built homes are offered from $1.87 million to $2.09 million.
The four townhomes have been designed with the affluent empty-nester in mind, said listing broker Michael Thorpe, co-owner of Treasure Coast Sotheby's International Realty. "As I see it, they want to simplify, but are used to the finer things. They don't even want to look at an estate home and all the maintenance that requires. They may want to travel in their golden years, just enjoy life. They require a lock-and-leave residence, with a sense of ambiance, but in a more efficient package. With the creativity and artistry of our team, the evolution of the project resulted in a seductive package for the empty-nester."
The team includes Nelson, a visionary developer with four decades of experience and hundreds of units of various types to his credit; Joe Foglia, a luxury home builder whose recent local projects include a just-completed $40 million, 44,000-square-foot estate home on 7.5 acres of oceanfront in the Estate Section on the island; renowned architect Jeff Ray, IA, Atelier d' Architecture, designer Page Franzel and Thorpe.
"I see people becoming more cognizant of the building codes and structural integrity and, therefore, seeking new construction over existing properties," Thorpe said.
So far, one of the townhomes has been reserved with a deposit.
The second mainland project is Laguna Village, a luxury enclave on the river within Grand Harbor that is being built by GH Vero Beach Development, LLC, and marketed by Dale Sorensen Real Estate Inc.
Dale Sorensen Real Estate broker associate Stacy Morabito said Laguna Village will be "the most exciting" enclave in Grand Harbor, with 23 riverfront 2- and 3-story homes with elevators, double garages, rooftop decks and top-of-the-line customization.
Homes start at $1.6 million and four have been reserved with deposits. Morabito said reservations are converted to contracts with 20 percent down payments after 60 days. Construction of furnished model homes will get underway in April and be complete by the end of the year.
Morabito says the buyers she is seeing are looking for beautiful waterfront locations and a high quality of life.  "We see our market driven by demand not only from our local residents wanting to move up or down and seasonal residents ready to make Vero Beach their full time home, but also international buyers.
"Many of our buyers have been coming to Vero Beach for years and have waited for a project like this to come to fruition ... we expect a very quick sell out."
Thorpe, French and Lombardi agree. All expect their projects to sell out before construction is complete.