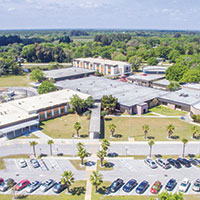 More complaints about mold at Fellsmere Elementary
STORY BY KATHLEEN SLOAN

In the two weeks since Vero Beach 32963 reported that a mold problem was endangering the health of students and staff at Fellsmere Elementary School, more sources have come forward to confirm the problem – some on the record, and some who requested anonymity because they feared reprisal.
Two weeks ago, School District management denied a mold problem exists at the school, and School Board members Shawn Frost, Charles Searcy and Claudia Jimenez said they were unaware of any mold infestation or health problems at Fellsmere Elementary.
But Vero Beach 32963 has obtained documentation of 18 complaints from school workers about mold infestation during the past year, and Fellsmere teacher Rodney McGriff said conditions in his classroom are making him and his students ill.
School District Facilities Director Scott Sanders and Physical Plant Director John Earman claim there is no mold problem, citing the accuracy of a central computerized sensor system that monitors the humidity of each room in every facility. But insider reports tell a very different story.
Although the Public Health Department, upon reading the prior article about conditions at the school, conducted an unannounced visit to Fellsmere Elementary, and found no mold, a tipster said the school knew about the inspection two days before it took place and prepared for it.
Unfortunately, mold is everywhere, there are thousands of spore varieties, and if a teacher or parent claims mold is the cause of a single child's illness, science often fails to rule in or out a causal relationship.  But allow teachers, parents and onsite facilities staff to confer on investigations, and you have the possibility of determining whether there is a problem that needs to be addressed.
The Indian River School District, however, has shown little interest in following that approach.  Sanders and Earman claim there are open communication lines. But when this reporter started to ask questions, teachers and staff were forbidden to speak to the press. Five teachers did, but two used go-betweens to ensure anonymity. All five said they would be fired if caught. 
Records show complaints of mold are processed by the School District as "work order requests." Given the teachers' fear, it's not surprising only one put his name on a form. "My asthma symptoms increase when I am in the classroom and decrease when I am away from the classroom. I also have students with allergies who are constantly ill," Rodney McGriff wrote.
The one parent who has gone on the record so far, Elizabeth Candanosa, didn't hear anything back after informing Assistant Principal Kimberly Garcia about her concerns concerning mold, and assumed the silence meant Garcia had done nothing to help her child.
But Garcia evidently did try to help.  One of the "work order" requests generated by onsite facilities staff mentioned Garcia as stating that kids were getting sick, and parents were complaining.
This lack of communication among school staff, and between staff and parents, shows the system masks specifics, such as how many kids are getting sick. Fear seems to be preventing open communication and clear documentation of the extent of the problem.
All press questions must now go through the School District's newly-formed centralized communications office headed by Flynn Fidgeon. "Facilities personnel have no obligation to communicate or follow up with parents," he said.
It hasn't always been this way, according to Gerry Koziel, who was the school district risk-management director until 2011, and who dealt with mold issues after the 2004 and 2005 hurricanes.  He said he called parents who complained of mold, and held one-on-ones with teachers.
The number of kids getting sick was the barometer, he said. If it was just one child, he asked for doctor verification that mold was the issue. But a small group of kids getting sick made it a school issue.
The complaints from Fellsmere teachers and staff also appear to not be getting through to elected officials. Three school board members – Frost, Searcy and Jimenez – said they had no knowledge of mold at Fellsmere, even though extensive documentation of mold complaints at the school exists in School District records.
Perhaps Sanders and Earman truly believe there is nothing to report to parents or the school board. Maybe they never saw the 18 "work order" requests, which were finally provided to this reporter two weeks after our inquiry.
They claim there has been only a single isolated instance of mold in the last year, but tracing the "work order" report, two mold problems were reported in one day, one behind a white board in the new two-story building – which Sanders and Earman acknowledge – and "a patch" in the cafeteria/auditorium.
Earman claimed the health and safety of students and staff are top priorities, and said response time to "work orders" was prompt – about an hour and a half, he said.
But Assistant Principal Garcia's complaint was generated Sept. 9, 2015, and no investigation was started until 40 days later.
The author of another work order request said he had reported Classroom 708 for two years to no avail. "I am very concerned about the air quality of this classroom," the onsite facilities worker wrote. "The amount of dust combined with the humidity factor of this room may contain a host of unhealthy bacteria, fungi and mold."
The 18 field reports, spread over a year like a living diary, with no self-censoring notion they'd be read by the press or the Department of Health, provide a worrisome picture. It seems that besides the mold problem at Fellsmere Elementary, there is a communication and administration problem at the District.