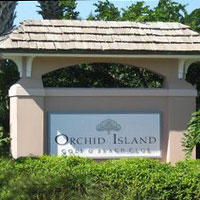 Puttick hopes Orchid will OK assisted living
STORY BY LISA ZAHNER

Orchid resident Ken Puttick hopes 2016 will be the year he finally gets started on the property he's fought to develop for a decade, and that his proposed high-end assisted living community near Orchid Island Golf and Beach Club will come to be seen as a valued amenity for barrier island residents.
A Vero resident and auto dealer for nearly 30 years who built an oceanfront home at Orchid more than a dozen years ago, Puttick and his consulting team from Kimley Horn are putting the finishing touches on a plan that will be considered by the Town's new planning agency, possibly on April 13 if all goes well.  The Town Council would then make the final decision.
The Watercrest Senior Living project, a 120-unit senior living and memory-care facility, is the third project Puttick has attempted to build on the seven-acre, commercially-zoned parcel across from Indian River County Fire-Rescue Station 11 on the Wabasso Causeway.  Two separate townhome developments earlier also rejected by the Town for various reasons.
Puttick's application packet for the assisted living community was rejected last year, leading to an appeal and a circuit court lawsuit which was settled by the Town, reportedly for $35,000, to cover the plaintiff's legal fees and other costs.
Orchid was accused of improperly denying the application without the due process of a quasi-judicial hearing. At that time, Orchid had no planning and zoning body charged with reviewing development plans.
After settling the lawsuit in November, the Town established a Local Planning Agency that meets under Florida's Sunshine laws and appointed five residents to serve as voting members, plus two alternates. Plans for the senior facility are being reviewed by an outside planning consultant who acts as the town's planning director.
Concerns surrounding the senior living project focused around the fact that the back of the project would abut one of Orchid's golf fairways, and that the architecture would not be compatible with the surrounding gated, club community.
"It will be something that the people who live in Orchid will want to go to if they need to, or the people who live in John's Island will want to go to, or the people who live in Windsor will want to go to," Puttick said. "People on the barrier island have lived in a very high standard of living and that shouldn't end just because we get older. Also, as we get older ourselves, we'd like to have our parents closer to us,"
Puttick said he chose Watercrest Senior Living to operate the facility he wants to build, and said that contrary to some reports, he will continue to own both the land and the buildings, and be directly involved.
He also went to Texas to find an architect who specializes in high-end assisted living to make sure the result would not only be something he wanted to own, but something he would be pleased to have in his own neighborhood. Watercrest recently completed a similar project, Puttick said, adjacent the Lake Nona Golf and Country Club near the Orlando International Airport.
"It's right on the outside of the gates of Lake Nona and Lake Nona looks at it like an amenity. They think of it as a great plus for the community, which I was hoping Orchid would see it that way as well," Puttick said.
If approved, the senior living facility would have a swimming pool, fountains and two separate dining venues – one for the memory-care residences and one for the general single- and double-occupancy residences for seniors who may need medical assistance, but not memory care.
Currently, island residents have high-quality options for senior living on the mainland along Indian River Boulevard, or west of the Indian River Mall, but not on the island itself. Those with long-standing club memberships and social networks on the island, Puttick said, might like to remain closer to friends and family on the island and not lose those connections just because they make the transition to senior living.
So far, Town officials have not been over-enthusiastic about Puttick's plan, but he is still hopeful they will warm up to the idea and see the merits of the project. "We keep getting comments back from the Town's planning consultant and we're trying to eliminate any uncertainties by having everything done. We're trying to do everything possible so it flies," he said.
Planner Keith Pelan of Kimley Horn, who has been the point person on all three of Puttick's proposed projects, said Monday, "We are in the process of addressing comments and don't have an exact submittal date as of yet."
Pelan has stayed on the project, at Puttick's urging, even after moving from Vero to California, to maintain continuity, and because of his good working relationship with the Town.
Puttick said of the latest iteration of the proposal, "We've tweaked it some," adding that some parking had been moved to the east side of the parcel from the west to have more of a buffer between Orchid residents on Caribe Lane. "
Orchid also has height limits on lighting, so we put in more lights that were lower and met that requirement."
Town Clerk Cherry Stowe said the Town has tentatively scheduled the next meeting of the Local Planning Agency for April 13, but that date might get pushed back, depending upon when Puttick's submittal is complete.