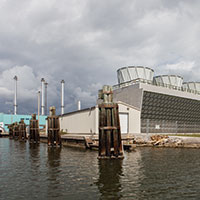 Time a concern in battle over Shores electric territory
STORY BY LISA ZAHNER

A complaint filed by the Town of Indian River Shores challenging the City of Vero Beach's electric territory had some ups and downs last week, but residents should not expect an answer in the next few months.
Mayor Brian Barefoot said he's spoken with the Town's lead utilities attorney Bruce May about the Florida Public Service Commission complaint Town filed as a Vero Electric customer, and "the time frame is really the question. It will probably be late summer before our petition would get heard."
Timing is critical to the Town, as its electric utility franchise with Vero expires on Nov. 6 of this year. The Town contends that after the franchise expiration, Vero would be operating its utility in violation of the Florida Constitution because the city would no longer have permission to operate within the Town's borders or use public rights of way.
Vero says its PSC-granted territory supersedes the Town's rights, and that customer service agreements with all the residents and the Town itself entitle Vero to use rights of way.
Barefoot called the petition to the PSC "the most productive and least expensive path we could pursue," adding that whichever side wins the PSC's favor, residents can bank on the loser appealing the decision. The good thing is that the appeal would most likely go directly to the Florida Supreme Court.
The Town was bolstered last week when Florida Power & Light filed a request to become an intervenor in support of the Shores request to open up Vero's territory. FPL is also actively trying to purchase the Shores customers from Vero, offering Vero $13 million. Vero has, in the Town's view, not seriously considered that offer, but instead retorted with a lofty estimated asking price of $64.5 million.
While the Shores waits to hear the PSC's decision, Barefoot said "we expect the city will try to get it dismissed," and in fact, Vero's lead utility attorney Robert Scheffel "Schef" Wright filed a 75-page Motion to Dismiss with the PSC late last week.
Wright's motion argues that the Town lacks the required standing to file a complaint which challenges Vero's territory. He also asserts that the Town, as an electric customer, was served by Vero before the existence of any franchise agreement, so Vero has a right to serve again in the absence of such an agreement.
The Town's circuit court lawsuit against Vero, which contends that Vero is in breach of contract for charging unreasonable rates, is also winding its way through the legal system.
Indian River County additionally is awaiting a ruling from the Florida Supreme Court following oral arguments last December on similar territorial questions. That decision is expected in the next couple of months. The County's electric franchise with Vero expires in March 2017.