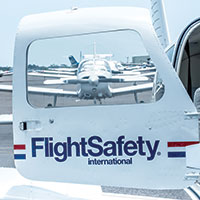 Back to the future for Piper: Refocus on trainers is paying off
STORY BY ALAN SNEL

It's back to the future for Piper Aircraft, which is re-emphasizing its trainer aircraft production roots to drive increased sales of trainer airplanes to flight schools.
From Vero Beach to North Dakota. flight programs are buying more and more Piper trainers to teach the next generation of aspiring pilots, especially with the commercial airline industry needing more aviators.
Each year since 2011, the percentage of trainer sales out of Piper's total aircraft sales has increased.  Five years ago, trainer sales accounted for 13 percent of total sales before it increased to 16 percent in 2012, 27 percent in 2013, 33 percent in 2014 and 38 percent in 2015.
That trend reflects the marketing strategy of Piper Chief Executive Simon Caldecott, who began as CEO in 2011 and made trainer sales a priority. The company's 1937 Cub is an iconic trainer in the aviation industry.
"Piper is one of the original names in pilot training. Their brand is and always has been tied heavily to training," said Ian Twombly, editor of Pilot and Flight Training, an aviation industry trade publication.
"The Piper Cub has trained thousands of pilots, and many people in aviation today look at it fondly as one of the great airplanes of all time," Twombly said.
In returning to its trainer roots, Piper cut a deal with ATP Flight School in April 2013 for 100 aircraft, while the company also made a recent agreement with the University of North Dakota's John D. Odegard School of Aerospace Science this spring for 100 trainers.
The 100 Pipers that will go to North Dakota are 80 single-engine Archer models and 20 multi-engine Seminoles, said Don Dubuque, the aerospace science school's aircraft fleet manager.
He said the 100 aircraft are valued at between $42 million and $45 million, and will be phased in during the next four to five years to replace old Cessna and Piper models.
Close to home, Piper sold 20 Warrior trainers to FlightSafety Academy in 2015 and another six Aero models in 2016, said Jackie Carlon, Piper director of marketing and communications.
Piper and FlightSafety have had a longstanding relationship through the decades and the overwhelming majority of the trainers at Flight Safety are Piper models.
"When the current CEO came on board, he instituted a strategic shift to focus more on training. They invested in a sales staff and went hard at fleet contracts," Twombly said.
"The University of North Dakota order is a result of that sales push back into training. And it shows how important the training sector is to Piper," Twombly said. "They've had other wins in the past few years, including with Flight Safety in Vero, and ATP Flight School, which is nationwide."
How much is Caldecott committed to bolstering Piper's trainer sales?  He travelled to North Dakota last week for a parents' weekend event and to award a scholarship at the North Dakota aerospace science school.
"It's not that they've let other products atrophy. They did kill the jet a few years ago, but more than that they have invested in a sales infrastructure that has produced results," Twombly observed.
"And I think the shift was smart. A healthy aviation company produces a full line of aircraft. In that way it's no different than a car company. Ford wants college kids to buy Fiestas so they buy F-150s later," he said.
Caldecott's renewed emphasis on trainer aircraft is tapping into an airline industry trend – more commercial pilots are needed, especially in the Asia-Pacific region.
"There's a growing shortage of pilots," Carlon said.
And Dubuque sees it firsthand.
"In the 40 years that I have worked in aviation, I've never seen such a demand for pilots," Dubuque said.
"There are airlines that are targeting our students like they're in the NHL draft."