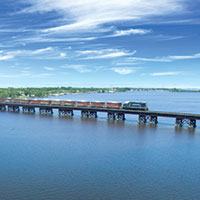 Bridges could yet pose obstacle for high speed train
STORY BY LISA ZAHNER

The spans across the canals and rivers of northern Indian River County could be like a scene from the Bridges at Toko-Ri for the massively powerful All Aboard Florida operation, as local officials band together to use bureaucratic push-back to block environmental permits needed to run train tracks over and through sensitive waters and wetlands.
Bad publicity, open rebellion and throngs of attorneys seem to have succeeded, albeit temporarily, in killing the market for All Aboard Florida's revenue bonds, but county and city officials want to stop the train itself from rolling – ironically, using as their weapon the same big-government regulations and processes these small-government conservatives moan about on a regular basis.
Even if the money eventually materializes to fund the 32-train-a-day project designed to whisk tourists from Miami to Orlando and back, agencies tasked with protecting our natural resources must sign off on plans to demolish and rebuild the train tracks over the St. Sebastian River from Roseland to Micco.
Several daunting bureaucracies – namely the St. Johns River Water Management District and the U.S. Army Corps of Engineers – have the power to approve, reject, amend, delay or stop work that the railroad needs to do on and around environmentally sensitive land and water in the train's path. 
Besides a new St. Sebastian bridge, AAF must gain permission to work on three crossings over relief canals which also are under St. Johns jurisdiction.
All Aboard Florida may have scooped up all or nearly all of the land and rights of way it needs for the project, but without the permits from those massive bureaucracies, work could come to a screeching halt. And the place where AAF's march northward may be slowed or halted is the old single-track railroad bridge over the St. Sebastian River.
"All Aboard Florida will eventually need to apply for permits to rebuild the bridge over the St. Sebastian River," Assistant County Attorney Kate Pingolt Cotner said in an email.  "Specifically, AAF will need to secure a permit from the Coast Guard and from St. Johns River Water Management District."
Even if AAF had all the required permits in hand today, it would be a stretch to build a new bridge over the St. Sebastian in time for the advertised 2017 launch of service. Indian River County Commission saw an opportunity to derail the train's progress by hiring a consultant to keep a very close eye on permit applications the railroad files with St. Johns River Water Management District.
All Aboard Florida's permit applications did not sail through the permitting process. Water district staff asked the company for more information on which to make a decision, prompting AAF to ask for a three-month extension and giving the county a window during which to strategize.
"At this point, we are analyzing the information contained in AAF's application to SJRWMD. George Kulczycki is assisting the County with its review of the data relating to wetlands," Cotner said in an email.
Any landowner or developer who has ever dealt with St. Johns on even a small project or retention pond knows that its permitting process can be exhaustive; its staff members charged with protecting natural resources are dedicated, detail-oriented and not inclined to be rushed.
Now, the county's consultants and attorneys are examining every piece of paper filed back and forth, commenting where appropriate and generally taking full advantage of the system, on behalf of Indian River County taxpayers.
Last month an even bigger agency came into play. The City of Vero Beach, the Board of County Commissioners and the Sebastian City Council petitioned the U.S. Army Corps of Engineers for more time to comment on proposals for work along the rail line that All Aboard Florida has submitted to them.
Both Vero and the county are also asking for the Army Corps to hold a local hearing before making a decision, so Indian River County residents and governments can express their opposition to the project. All of this coordination takes time.
"The City of Vero Beach is uniquely situated in the path of this project and is directly responsible for mitigating effects of stormwater and wetlands management," Mayor Jay Kramer wrote on April 25 to the Corps.  "We believe a local hearing on this permit will help clarify possible impacts on our community.
"We would like to respectfully ask that the Army Corps hold a local hearing on the matter to help explain the project to the public and to help local Governments in understanding how this project will impact our local responsibilities."
Vero on May 5 finally received 100 pages of detailed design and quiet-zone crossing plans, which its staff engineers and attorneys are reviewing and preparing comments. The City Council has not yet had an opportunity to discuss those plans or how they may impact the city. Counterparts at the county also received a set of plans for crossings, track and quiet zones in the unincorporated area and city counterparts on the county staff and consulting payroll are busy scouring those documents as well for any concerns.
In an April 21 letter to project manager Andrew Phillips, the County Attorney's office wrote urging the Corps to allow more time for interested parties to comment on the train proposal. "The intense controversy surrounding the proposed project is readily apparent from the fact that over 15,400 written comments were submitted on the Draft Environmental Impact Statement," Cotner wrote to Corps.
"Almost two-thirds of those comments expressed opposition to the proposed project and many of those comments directly addressed issues that the ACOE must consider in its permit review, including wetlands, water bodies and threatened and endangered species."
To date, Vero has passed several resolutions and sent letters opposing the fast train, and for a time the city had an advisory commission charged with examining plans for the train, but the city has not officially committed any dollars to fighting AAF. Indian River County has budgeted nearly $3 million for legal, consulting and lobbying efforts to try and derail the train.