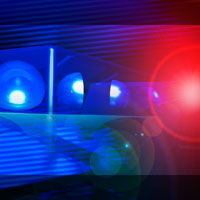 Elderly suspect sought in rash of island burglaries
STORY BY LISA ZAHNER

After three sightings either by camera or by eyewitnesses of a white male in his 60s or 70s, seen  walking – sometimes with a cane – at crime scenes, Vero Beach Police detectives have asked for help in catching the elderly man suspected of burgling multiple Central Beach residences over the past few weeks.
The rash of property crimes started the evening of Oct. 18 when police were called to the 700 block of Gayfeather Lane in response to an alarm and found a broken window and burglarized home. An image from the resident's security camera showed an older white male wearing a hat, glasses and dark gloves looking up into the backyard camera. Though nothing was taken from the residence, the man was observed on camera walking around the outside of the house.
The next evening, police were again called out to the 700 block of Gayfeather where what's thought to be the same man was caught on surveillance video.
Police say a caretaker had reviewed the surveillance footage from the home and saw what appeared to be the same man walking around the house and hiding in the bushes as vehicles passed. No entry was made and nothing was missing, but the video footage coincided with the time of the broken window incident at the other house.
Then on the evening of Nov. 6, police were called to the 500 block of Greytwig where residents had returned from dinner, heard a noise and found their rear French doors open. Officers cleared the residence, finding all the doors unlocked without any sign of forced entry. Two diamond necklaces were missing; one necklace was gone, the other had been dropped at the rear of the house near the door.
"The homeowners advised that two weeks prior to this incident, they observed an older white male walking with a cane, exiting their fenced back yard. The male stated that he was just looking at Halloween decorations and got lost," according to police reports. "The homeowners also stated that they found a hidden house key missing from their residence around that time."
Detectives asked the Greytwig victims to take a look at the video image and they positively identified the man filmed lurking on Gayfeather two weeks prior to be the same man they saw in their back yard. "It is believed that the same individual may be connected to this burglary," the report said.
The police alert describes the man as being white, about 6 feet tall with an average build. He's estimated to be between 60 and 70 years old and apparently walks slightly hunched over, wears glasses and a wristwatch. Anyone having information about the suspect should call the Detective Brian Kerensky at 772-978-4661, or the Vero Police Department non-emergency number at 772-978-4600.