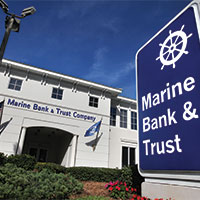 Marine Bank books a strong quarter with increased earnings and deposits
STORY BY ALAN SNEL

Marine Bank & Trust, the island's only local bank, continues to grow its quarterly earnings this year while also beefing up its assets.
Third quarter earnings in 2016 hit $300,000, a modest increase of $17,000 over the same three-month period in 2015. For the first nine months of 2016, Marine's earnings were $842,000, an increase of $125,000 over the $717,000 in earnings during the same period last year.
During the third quarter, Marine also finalized the purchase of the Valley National Bank facility on U.S. 1 in Sebastian, adding 565 new customers, $13 million in customer deposits and three new employees.
"The third quarter was all about putting the Sebastian deal together," said Bill Penney, president and CEO of Marine Bank.
During the first nine months of 2016, Marine has helped put 83 families in new homes and originated 125 residential loans worth $38 million. On the commercial loan front, the bank has provided $11 million in loans to 34 companies to open or expand businesses.
The earnings could have been higher but Marine made a one-time expenditure for a major technology upgrade that enabled the bank to offer new services such as mobile banking, mobile check deposit, e-statements and improved online capability.
Marine's assets have grown along with its profits this year to $203 million at the end of September, a healthy uptick from $184 million a year before. As a result, the bank has maintained its 5-star Superior rating from bank-rating firm Bauer Financial.
Penney said the bank is always looking for expansion opportunities, but doesn't have any deals in the works at present.
Marine Bank, chartered in 1997, has three full-service bank branches.