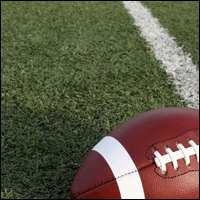 Three football coaches share season of success
STORY BY RAY MCNULTY

Let's start by putting a myth to rest: They don't do it for the money.
The bottom line is, the head coaches of the county's three highly successful high school football teams don't get paid enough to adequately compensate them for the time they invest, effort they put forth and personal sacrifices they make to do the job.
Unlike big-time college football coaches, Vero Beach's Lenny Jankowski, Sebastian River's Kevin Pettis and St. Edward's Bill Motta don't get generous checks from rabid boosters to supplement the stipends they're paid for coaching.
Each receives less than $6,000 for coaching, which doesn't amount to much when you consider that coaching high school football has become a year-round job that includes spring drills and 7-on-7 competitions during the offseason and, from August to November, demands a seven-day work week.
"You're not just expected to work that much, but it's required if you're going to keep up with the competition," Jankowski said. "So you really have to love the game."
That our relatively small county has been blessed with three men who possess such affection for football and a fierce commitment to coaching is something to be thankful for.
Not only are these coaches helping shape the lives of their players, teaching lessons that can't be learned in a classroom, but their teams' successes this season have created a buzz throughout the county, where high school football has become a source of community pride.
Jankowski has compiled an amazing 59-8 record in his six years here. This season, he has guided Vero Beach to an 11-0 showing that includes two playoff victories and has put the Fighting Indians in Friday night's Region 2 Class 8A championship game against Dr. Phillips in Orlando.
Pettis, meanwhile, is 24-18 in four years at Sebastian River, where he took the program to unprecedented heights this season. The Sharks won 10 games with seven shutouts – both school records – and posted their first playoff victory before losing at home Friday in the Region 4, Class 6A semifinals to top-ranked Daytona Beach Mainland.
And Motta, despite working with an 18-player roster, led St. Edward's to the Sunshine State Athletic Conference title bout Saturday night in Oviedo, where the Pirates took a two-touchdown lead into the fourth quarter before losing 21-14 to St. Stephen's Episcopal. His undermanned teams are 40-30 and have won one conference championship in seven seasons.
"Bill is a great football coach who does remarkable things with the roster challenges he faces, and Lenny is one of the best offensive minds I've been around," Pettis said. "Honestly, I'm honored just to be mentioned in the same discussion with those guys.
"I feel like I walk among giants."
Indeed, it was a giant of a man – the late Billy Livings, the Florida Sports Hall of Fame coach for whom the field at Vero Beach's Citrus Bowl is named – who showed up in 1980 and, across the next 26 years, gave our community a reason to care about high school football.
Livings, who died in October 2011, compiled a 211-86 record at Vero Beach, leading the Fighting Indians to 20 playoff appearances, 15 district titles, seven state semifinals and one state championship.
"Billy did such a tremendous job of building a sustainable program, improving and expanding everything from facilities, ticket sales, community support and pride in the program," said former Fort Pierce Central coach Josh Shaffer, who lives in Vero Beach. "And Lenny has done a great job of building on that.
"But it was Billy who set the bar."
Livings' widow, Rosie, said she considers Vero Beach's success under Jankowski, as well as the county-wide excitement about high school football this season, as part of her husband's legacy.
"It wasn't like this when we first got here," she said.
It was Livings' coaching that made the difference then. It's the coaching of Jankowski, Pettis and Motta that's making a difference now.
Even though Vero lost nine starters to graduation in June, and there was talk of 2016 being a rebuilding year for the football program, fans are talking now about the Fighting Indians winning their second state championship – something that wouldn't be possible without Jankowski, whose team appears to be peaking at the perfect time.
"Right now, it's really a fun time to be a Vero Beach Fighting Indian, and they're probably feeling the same way at the other two high schools," Jankowski said. "A successful football season does wonders for school pride and morale. It gets the school year off to a fun start."
For those wondering: The three local coaches said they get along well and root for each other – except, of course, when Vero Beach and Sebastian River renew their annual intra-county rivalry.
"I always root for St. Edward's," Pettis said, "and I hope Vero Beach wins every game but one."
In fact, Pettis, Jankowski and Motta said they consider themselves to be the local chapter of a high school coaches' fraternity.
They have different personalities and different full-time jobs in addition to coaching – Jankowski is Vero Beach's athletic director, Pettis teaches physical education at Sebastian River, and Motta is a personal trainer and president of Victory Kids, a non-profit that runs sports camps for local youths – but the three men share a very  powerful common interest.
So we should count our blessings: We have three terrific high school football coaches who are doing something special in our community. And they don't do it for the money.