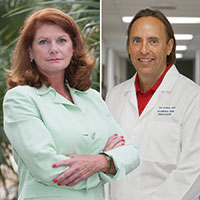 Two locked in key battle for Hospital District trustee
STORY BY MEG LAUGHLIN
Photo: Karen Deigl and Val Zudans

Two candidates running for the same seat on the board of trustees of the Hospital District are locked in a bitter, complex and extremely important argument over Indian River Medical Center's insurance reimbursement rates for the services it provides.
Incumbent Val Zudans, a Vero Beach ophthalmologist, says if hospital CEO Jeff Susi were to negotiate better reimbursement rates with commercial insurance companies – rates even close to those obtained by neighboring hospitals – IRMC would be profitable, and would not constantly be seeking more money from taxpayers.
He also contends that companies with private health insurance are not likely to be significantly affected.
His opponent Karen Deigl, a former Hospital District executive director, argues that if the insurance reimbursement rates for patients treated at IRMC go up, government agencies that self-insure like the School District, the County and the Sheriff's Office will take a significant hit, and private employers will see their insurance bills soar as well.
Healthcare experts that we interviewed last week tended to side with Zudans, who has cast himself as a watchdog holding IRMC accountable and looking out for the interests of taxpayers.  Deigl, on the other hand, has the backing of IRMC and its supporters, who express concern about the impact of higher reimbursement rates on the community.
Here, in summary, are the arguments of each of the candidates:
Zudans says that the CEO of Indian River Medical Center, which is struggling financially, needs to negotiate better reimbursement rates with commercial insurance companies in order to strengthen the institution financially.
To make his point, Zudans offers numbers recently published by the state: IRMC gets 141 percent of the Medicare reimbursement rate from insurance companies like Blue Cross Blue Shield and from self-insured agencies.  Sebastian River Medical Center, on the other hand, gets 298 percent of the Medicare rate, and one of the hospitals in St. Lucie County gets 397 percent of the Medicare rate.  
"Our community is already paying high rates for premiums because every other regional hospital has higher rates and we are subsidizing these communities," said Zudans.  "All of the benefits of better IRMC rates would go to improve IRMC's financial performance.  Only a fraction of the rates would be borne by our community. ... The hospital understands it is in dire financial shape and needs better negotiated rates."
In a move that would appear to provide some substantiation for Zudans' position, the IRMC Finance Committee was told on Monday that the hospital has sent letters of termination of insurance participation to several private insurers as a tactic to try and negotiate better rates. 
But his opponent Deigl argues that if Indian River Medical Center were to negotiate significantly higher reimbursement rates for services, the increases would raise self-insured employers' payments for services, and would also increase the cost of premiums for businesses who purchase commercial insurance for their employees.
"Increasing the negotiated health insurance rates would increase the overall bottom line of IRMC, but it would also increase the overall premiums of individuals who are fully insured, as well as increase the premiums of self-insured businesses such as the County, the School District and the Sheriff's office," said Deigl.
Here's what some of the experts we discussed this with had to say:
Miami healthcare attorney Everett Wilson, named a "power leader in healthcare" by the South Florida Business Journal, said the argument that an increase in commercial insurance reimbursement rates for IRMC would inevitably result in increased premiums for local employers is misleading.
The increase in reimbursement rates by one hospital out of the many providers in a large geographical area would be insignificant, he said.
"To say that a rise in the hospital's reimbursement rate will cost the self-insured employers more is right. But it is misleading to say the premiums of businesses insured with commercial insurance will go up," he said.
If an Indian River County teacher with a broken leg goes to Sebastian River Medical Center, the reimbursement rate for services would be double what it will be at Indian River Medical Center, which the School District will pay.
But if an employee at a small Indian River County business with commercial insurance chose to be treated at Sebastian River rather than at IRMC, the employer would not pay a greater premium because the costs are averaged over all of a large area's providers.
Several of the experts also strongly disagreed with IRMC CEO Susi's rationale, expressed in a letter two weeks ago to Chamber of Commerce Chairman Jeffrey Schlitt, for not more aggressively negotiating reimbursement rates.
Susi conceded that increased reimbursement rates would help the hospital financially, but expressed concern over the impact of higher rates on self-insured employers.
"IRMC is here to serve the community," Susi wrote.
"Self-insured employers understandably want the hospital reimbursement rate to be as low as possible," said Wilson, "but the hospital's primary obligation, along with quality healthcare, is to make sure it is economically viable."
"All hospitals negotiate repeatedly with commercial insurers," said Mike Bittman,  Orlando healthcare attorney of the year. "Hospital CEOs always want better reimbursement rates and it would be pretty shocking if one wasn't going to the table regularly."
"A CEO should want as much revenue as he can get from all sources. Going down the philanthropy road and District tax dollar road is good. But why cut off the road of negotiating better rates with insurance companies?" asked Wilson.
Zudans points out that were Susi to successfully negotiate with insurance companies, the revenue of the hospital could increase by more than $20 million, which would necessitate much less tax money from the Hospital District for indigent care.
But negotiating better reimbursement rates with insurance companies depends on a lot of factors.
A prominent Florida healthcare attorney, who asked not to be named because of her firm's past work with Indian River Medical Center, said a hospital's reputation for quality service is one of the main things that gives it leverage.
"If the Emergency Room wait-times are low, if patients are not being readmitted after treatment, if it looks good in Medicare statistics, this is all good for leveraging," she said.
Medicare ratings show that Indian River Medical Center received two gold stars in 2016 for its overall quality of care, while most hospitals in the U.S. received three or more stars. (Sebastian River Medical Center received three.)
Unfortunately, despite much effort, IRMC still has an average Emergency Room wait-time from entry to a hospital bed of more than five hours, which is greater than the Florida and national average, and also about two hours greater than Sebastian.
In other areas of Medicare ranking, IRMC also falls below the Florida and national average:  How well nurses and doctors communicate with patients, how quickly patients receive requested help, how clean the rooms and bathrooms are, how frequently pain is controlled and how often a patient would recommend the hospital to others.
In some categories, however – like getting pain meds to patients with broken bones, giving flu shots to employees and getting medicine at discharge to prevent blood clots – IRMC's rankings are better than the Florida and national averages.
"Leverage in negotiating better rates depends on the perceived value of the hospital, and a hospital with a great reputation is in the position to leverage," said Wilson.
This past Monday, Zudans attended a finance committee meeting at the hospital and said he came away with this information:
"IRMC set financial performance goals a year ago but failed to meet 7 of 8 of their goals.  The only goal they met was related to use of electronic records.  Some of the highlighted failed objectives were: improve profitability, maintaining cash balance, managing operating expenses and employee retention."