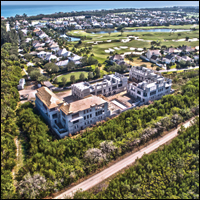 Windsor condo complex arises along Jungle Trail
STORY BY ALAN SNEL

While most multimillion- dollar  projects on the island are unveiled with considerable preconstruction fanfare, a three-story condominium complex is rising in Windsor behind the trees that line the Jungle Trail with no one involved in the project willing to discuss it.
The condo, known to the county as Windsor Block 48, is a cluster of three connected 35-foot-high buildings far more massive than the private homes that line the adjacent golf course.  The buildings will house 12 of the largest condo residences ever built on the island, ranging in size from 2,845 square feet to just under 4,000 square feet, according to county records.
The complex is situated along Windsor's western perimeter near the northern border of its property, and is separated from the Jungle Trail by an estuarine wetland designed to be a visual screen between the trail and development.  But the top section of the bulky concrete shell of the buildings rises well above the Jungle Trail treeline, making them clearly visible to passersby.
"It's on the perimeter of Windsor, so it makes it seem more prominent," said Ryan Sweeney, a county planner.
So when will the project be completed?  What are some of the amenities?  What will the condo units cost?  Those questions for the moment appear intended to remain a mystery.
Mark Justice, the contact listed for Windsor Properties on building documents, referred emailed questions to Windsor marketing director Jane Smalley. Smalley, in turn, emailed: "We would like to decline on providing any comments at this time."  Betsy Hanley, president of Torwest, the developer of Windsor, could not be reached.
But a November-December newsletter for Windsor members said the Windsor Park Residences – as the complex apparently is called – present the "perfect opportunity for buyers seeking a turnkey residential solution on a more intimate scale at Windsor."
Half of the residences, the newsletter said, "already are reserved and the project is on target for completion in the fall of 2017."