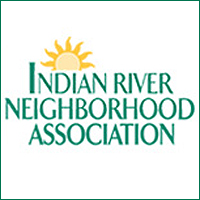 Elections fraud complaint filed against IRNA mailer
STORY BY LISA ZAHNER

A 16-page newspaper-style mailer sent to Vero Beach residents last week touting three candidates for Vero Beach City Council prompted a complaint to the Florida Department of State for alleged elections fraud, but the Indian River Neighborhood Association, which primarily funded the mailing, says it did nothing wrong.
Former Vero Beach City Councilman and Vero Beach Chamber of Commerce founder Charlie Wilson filed two complaints, dated Oct. 21, against the IRNA Political Committee and the paper's publisher, New Mexico resident Mark Schumann, alleging that the mailer constitutes an illegal piece of electioneering communication.
The IRNA is a local nonprofit organization with its own PAC, the IRNA Political Committee. The PAC can perform political functions such as electioneering that the nonprofit itself is not permitted to do, but Wilson contends the group crossed a line by underwriting the publication and distribution of campaign literature masquerading as a newspaper.
The mailer was entitled Inside Vero and resembles a community newspaper Schumann published sporadically for a couple of years before moving to New Mexico. Inside Vero is not published by a corporation, but is a fictitious name Schumann registered in 2013.
While Schumann still maintains an Inside Vero blog, he has not published a print product since just prior to the 2015 Vero Beach city election, when he put out a similar campaign mailer underwritten by the IRNA.
Wilson stated in his complaint the Inside Vero "has distributed campaign materials numbering in the thousands that qualify as an electioneering operation without proper disclaimers and without full reporting of the source of funds. Inside Vero only publishes in election years and within 60 days of an election and advocates for the election of candidates on one side of an issue and the defeat of candidates on the other side."
Public campaign finance records show the IRNA paid Inside Vero $5,000 for advertising in the 16-page page mailer, which Wilson says is intended for the sole and specific purpose of convincing Vero Beach voters to vote for the IRNA's three endorsed candidates – Sharon Gorry, Tony Young and Randy Old.
The three candidates endorsed by the IRNA – all of whom received contributions from the IRNA – paid Inside Vero an additional $2,000 for advertising, according to campaign finance records.
The IRNA's $5,000 payment "is reported as advertising but there is no $5,000 ad on the rate card and [that figure] is the total cost of producing and distributing the election materials," Wilson wrote in his complaint.
He says Inside Vero is not a legitimate newspaper, does not have a business license as a newspaper and is not recognized as a newspaper by the U.S. Postal Service.  
"I have not read any complaint," says IRNA Interim Executive Director Carter Taylor. "We received an email from Charlie Wilson basically threatening us with the complaint. That's all I've seen. After discussions with legal counsel, we determined that the complaint would be found to be without merit."
The Florida Department of State's Division of Elections, however, aggressively investigates all such complaints, and the fact that this mailer contains no identification of its publisher and no political disclaimer of any kind on any page seems likely to attract their interest.
Taylor went on to say the complaint is "timed to gain political advantage in the election, to frustrate the efforts of the IRNA in the upcoming election and to tarnish our image."
Taylor said he was sad the general rift between opposing factions in the Vero Beach-area has reached a new low this election cycle. On the other side, he said, Florida Power & Light and Indian River Shores residents are financially backing three candidates who have committed to sell the 3,000 Shores electric customers to FPL.
Though the complaint form clearly states it is not confidential and would become public record upon receipt by the Florida Department of State, the Division of Elections typically keeps all complaints sealed while an investigation is ongoing, only releasing them once elections officials have decided on a course of action, whether that be dismissal, a fine or further prosecution of the alleged violations.
Vero Beach 32963 obtained copies of the complaints against the IRNA and Schumann directly from Wilson as the complainant.