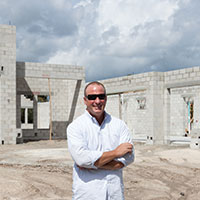 Island home construction booming
STORY BY STEVEN M. THOMAS
Photo: John Genoni.

New home construction has roared back to life on the island this year with several townhouse projects and small subdivisions.
The latest project to be announced is South Shore, a 30-home addition to the River Club community that recently broke ground.
"The homes will be in the $1 million to $1.5 million range," says John Genoni, president of Beachland Homes Corporation. "Lots are priced from $250,000 to $295,000 and they will only be sold as part of a lot-home package. We are the exclusive builder."
Genoni says site work, including installation of roads and utilities, will be complete by the end of the year and the company has already taken three lot reservations.
"We hope to have several houses ready to start construction by the first of the year," he says.
Beachland is an Arthur Rutenberg Homes franchise, which means they can offer a wide range of Rutenberg home models, all of which can be thoroughly customized to suit buyer preferences. Homes in South Shore will be in the traditional British West Indies style.
River Club is located between A1A and the Indian River Lagoon, north of John's Island and south of Palm Island Plantation. Created by well-known Vero Beach developer Mason Simpson more than a decade ago, the riverfront community has 179 lots spread across 120 landscaped acres stretching from A1A to the Indian River Lagoon with 15 acres of lakes. It has a guarded gate, two clubhouses with pools, tennis courts and guest suites for visiting friends and relatives. Ocean access is directly across A1A, via a public beach access point, adjacent to the Carlton Condominiums.
Genoni says demand for new homes in River Club has been strong. His company previously bought 30 finished lots form Ironshore Capital two years ago, and has only four of those lots left.
"We currently have seven homes under construction and seven others in the design and permitting phase," he says.
The company has a furnished model home in River Club for prospective buyers to take a look at.
Sales in the new phase will be handled by an in-house team consisting of Nicki Genoni, vice president of sales and marketing, and custom home consultants Bethany Smith and Elise Kriss. They will be cooperating with outside brokers.
"The process is simple," says Nicki Genoni.  "Realtors bring their clients in for the initial visit, register them and we take care of the rest . . . We know their time is valuable and therefore do all we can to streamline our process however possible.  They are paid 3 percent commission on the sale of the home at either the start of construction or closing of the loan."
John Genoni says design, engineering and permitting will take four to five months, once a buyer commits. Construction will take another eight to 10 months, depending on "the size and complexity" of the house.
Genoni says his buyers are a mix of people from the northeast buying second homes or retirement homes, and Vero buyers downsizing from larger homes elsewhere on the island. He says the strongest draw has been the advantages of new construction compared to resale homes that require substantial upgrading.
"When people compare existing homes that need work, versus the value and convenience of buying a new home that is all up to code and energy efficient, they see it is a better value proposition. If you have to spend $50,000 or $100,000 or more to make an older home livable, new construction becomes very attractive. That seems to be the strongest selling point.
"Our ability to customize the homes is another big selling point. We can push the walls back, make the ceiling higher, change the cabinet layout or just about anything else. There is no limit to changes we can do."
Many of the services and features Beachland offers in River Club come from its association with Arthur Rutenberg Homes.
Brothers Arthur and Charles Rutenberg began building homes in Florida in 1953 and found quick success, expanding across the state. They later joined forces with other builders to create U.S. Homes, which grew to be the largest homebuilder in the country.
Arthur Rutenberg left a top position with U.S. Homes in the 1970s to begin an innovative franchise system that allows independent builders to partner with Rutenberg, adopting its business practices, home models and brand.
The Genoni family – which has homebuilding roots in Brevard and Indian River County going back nearly 50 years – bought the Indian River County franchise several years ago, gaining access to a builder nameplate with considerable cachet and extensive back office services.
"It is a great system," says Genoni. "Rutenberg Homes has a reputation for quality and craftsmanship and they have more than 80 models that are actively being built throughout Florida that we will offer. There is a team of 25 designers we can call on to streamline the process of customizing the homes if a buyer wants a larger master bedroom or an additional bedroom or a different roof line.
"Rutenberg has done a really good job of building camaraderie and communication among the franchises. There is no competition [since each builder has an exclusive area]. Our model home in River Club is a Monaco model.  If the guy in Tampa has a customer who is interested in that model, he can send them over here to see it and we will treat them just like they were our customer. Same thing if there is a model in Tampa one of our customers is interested in. They can take a two- or three-hour drive and walk through the house to get a better sense of it.
"As an Arthur Rutenberg builder, we have back office support, software, marketing and other big builder benefits that a small or medium-size builder doesn't have," Genoni says. "It puts us into a completely different league."