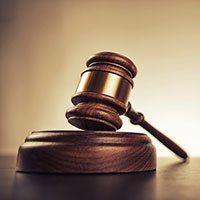 Judicial candidate had troubled past at Sheriff's Office
STORY BY JOSE LAMBIET

Well-known Vero Beach criminal defense attorney Robert "Bob" Meadows is hoping to add the title "judge" to his resume in a runoff in the Nov. 8 elections, but a Vero Beach 32963 investigation has uncovered a troubled past in law enforcement and some inconsistencies in Meadows' claims about himself.
While Meadows claims to be a lifelong Vero resident, he actually went to high school in Boca Raton, according to the application he filled out when he applied for a job at the Indian River County Sheriff's Office, and on other paperwork he reported being employed as a patrolman in the Deerfield Beach police force for four years.
More troubling than these inconsistencies is his record while he was with the Indian River County Sheriff's Office, where he was twice charged with conduct unbecoming an officer.
Former Indian River County Commission chairman and Sheriff Gary Wheeler said he remembers Meadows as an "aggressive, abrasive cop" and questioned his temperament and suitability to put on a judicial robe.
With local contests overshadowed by the presidential slugfest between Hillary Clinton and Donald Trump, the election for the man who will replace Judge F. Shields McManus on the all-important circuit court has not garnered much interest from voters.
McManus retires at the end of his term after nine years on the bench, and political newcomer Meadows, 58, surprisingly won the primary against three other candidates in the 19th Judicial District – which lumps together Indian River with Martin, St. Lucie and Okeechobee counties.
Now Meadows takes on the Aug. 30 second-place finisher, Stuart attorney Michael McNicholas, for a six-year term that pays $146,080 a year and allows the winner to preside over some of the most important local cases.
While he has defended several hundred criminal cases in Indian River and St. Lucie counties as well as in the federal system since he became a lawyer in 2005, Meadows remains a relative unknown to the general public.
In that context, Vero Beach 32963 opted to vet the Vero Beach resident in the absence of any reporting about Meadows' background in the local daily.
Meadows describes his previous career as a lawman on his campaign flyers but does not elaborate beyond saying it consisted of "15 years as a uniform law enforcement officer in the local area."
Strangely, he doesn't say where.
As it turns out, Meadows spent a problem-plagued 10 years with the Indian River County Sheriff's office, where he was employed as a road deputy, lieutenant and then detective from 1987 until 1997.
He was nearly fired for "conduct unbecoming" in 1991. But instead of getting the administrative "death penalty," he was demoted from lieutenant to deputy – a highly unusual and steep demotion by law enforcement standards.
Vero Beach 32963 requested a copy of the Internal Affairs investigation that led to Meadows' demotion but was told the paperwork had been destroyed because the incident occurred in the 1990s and only needed to be safeguarded for five years.
Today, the only mention of the demotion comes from two brief lines in forms filed by the sheriff's office in connection with Meadows' request for admission to the Florida Bar Association in 2005.
The Florida Board of Bar Examiners document showed the then-Lt. Meadows was accused of the wrongdoing in April 1991, and the charge was sustained by Internal Affairs weeks later.
As a result of the charge, he was demoted to road deputy, with a salary cut from $35,000 to $25,000, and assigned to the graveyard shift.
He was accused of "conduct unbecoming" again in April 1997, but that charge was deemed "unfounded" and Meadows resigned to pursue his interest in law.
We contacted six sheriff's officials from that era, and none – including the then-Sheriff Tim Dobeck – seemed to remember what led to Meadows' demotion.
"The name sounds familiar but I don't remember what that [incident] was about," Dobeck said from his home in Georgia.
Name sounds familiar? Dobeck forgot to mention his ex-wife is Meadows' first cousin.
Orchid Police Chief Phil Redstone, who was in charge of Internal Affairs at the sheriff's office in the 1990s, doesn't remember the details but remembers that whatever Meadows was accused of was a big deal. "Conduct unbecoming," he said, includes a vast variety of improper behavior.
"I don't remember the incident itself, but I remember being brought in to a meeting discuss whether Bob was going to be fired," Redstone said. "The demotion was a way to keep him without having to fire him. It was a mercy thing."
In one of his performance evaluations in late 1991 found in what's left of Meadows' employment file at the sheriff's office, Meadows appeared to be considered by his peers as a hot-head.
"Bob has had a problem in accepting constructive criticism without becoming defensive or irritable," the evaluation reads while pointing out that, in late 1991, he was improving.
Wheeler didn't recall either incident involving Meadows because he had not become sheriff yet, but offered an opinion about the five years Meadows served under him.
"I wouldn't vote for Bob," said Wheeler, who became sheriff in 1992. "He wasn't a great deputy. He was the type who yelled at people when things weren't going his way, and that's not what I wanted at the sheriff's office."
Meadows said he worked in private security before being hired as a deputy and brought a wealth of then-cutting edge private security experience to the job. For that reason, Meadows said, he was quickly placed at the forefront of Dobeck's effort to restructure the sheriff's office.
He claims his rise to prominence in record time was at the root of his just-as-swift demotion.
"We were in the middle of the state accreditation process and I ended up being asked to restructure the whole agency through a then-new tool – a computer," Meadows explained. "I was one of the only ones who knew how to use it, and I used it to rework the duties of every single member of the service and civilian."
When we first reached Meadows, he hung up the phone when asked about the demotion. But his campaign manager and sister, Virginia Meadows, arranged for a meeting in his downtown office to explain why he ran into troubles.
"In the restructuring process, some people were promoted and some demoted," Meadows said. "I was promoted from deputy to lieutenant, so I had a bull's eye on my forehead."
Meadows said he came to work one day and was told he was under Internal Affairs investigation for disobeying an order. He had, he says, no idea what he had done as he handed over his gun and shield, and was placed on administrative leave with pay.
"Eventually, I found out it was because I gave a secretary an order despite the fact I was told not to give anyone an order until my superior came back from vacation," Meadows says. "It's as stupid as that."
Dobeck, with whom he was close, didn't lift a finger.
"I got demoted and they hoped I'd quit," Meadows said. "They gave me the worst squad car in the agency and the worst shift. But I wouldn't quit. I showed up for my first day with the old car looking like new after I buffed it."
Wheeler didn't give Meadows a break either. Meadows' employment file shows he applied to be a sergeant in 1994, three years after the demotion, but was turned down.
He passed the tests to be on the SWAT team, Meadows said, but wasn't assigned to the elite squad.
Meadows eventually left the agency in 1997 with the rank of detective specializing in child abuse. He told the exit interviewer he decided not to wait to reach his 20th year and the pension that'd go with it because he needed a career change, according to his employment file.
After leaving the Sheriff's Office, Meadows enrolled in the little known Appalachian School of Law in Grundy, Virginia, and eventually went on to a successful career as a lawyer in Vero Beach.
Meadows' personal life, meanwhile, hasn't been a bed of roses. He was married and divorced three times by the time he was 43, and now he says he is single.