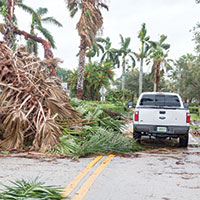 Matthew's wrath turned away by 'Kiss from God'
STORY BY MICHELLE GENZ

It was not so much the might of Hurricane Matthew as the might-have-been that has altered Vero Beach and its neighbors, many of whom view the storm as a dry run for The One.
Not that sidewalks didn't buckle and boardwalks collapse as the powerful Category 4 storm grazed our coastline. The damage hit particularly in the northern stretches of A1A, where the wasp waist of the barrier island seemed to catch Matthew's eye like a lonely man on the dance floor, unleashing its untoward advance on boats, docks and dunes.
Sidewalks cracked and crumbled and edges of the highway's asphalt fell away in places. At residents' favorite stretches of beachfront, the sands were licked away like icing off a cake. Hurricane-force wind gusts caused widespread power outages that took until Sunday night to restore.
On the mainland's Royal Palm Pointe, foul-colored flood waters closed the shopping and residential district. Elsewhere flooding closed lanes of traffic as did scattered fallen branches and upended trees, their ugly brown undersides exposed as crews worked to clear the mess. In a few cases, trees tumbled onto houses, the terrifying dead-of-night thud heard over howling winds.
It is that terror that remains to be dispelled, littering the collective mindscape like so many limbs in the yard. Meteorologists may have made us crazy when wimpy Tropical Storm Hermine waffled in the Caribbean for days before swelling to a weak Cat 1 across the Panhandle. But those same forecasters strained to contain their horror as they saw massive Matthew muscling up the Florida coast as a potentially catastrophic Category 4, zeroing in on Vero after bulldozing the western peninsula of Haiti, eastern Cuba, and the ports of Nassau and Freeport in the Bahamas.
Those of us who were here for the twin storms of 2004 strained to believe anything could be worse. Jeanne was a strong Category 3 when the northern corner of its vast eye clobbered Vero. That was just three weeks after Frances, a Cat 2, softened up the target for Jeanne. Together they tore the town asunder, leaving residents accustomed to Vero's manicured beauty shell-shocked at the wreckage.
Months passed before a blue-tarp checkerboard was no longer the aerial introduction to guests arriving at the Vero airport. Roofers quickly soared past the island's millionaires as most valued VIPs as contractors and construction workers poured in from as far away as New England.
Even so, giant piles of debris remained well into winter along the side of U.S. 1, and a year later many households were still dodging carpet tack strips on bare plywood floors, and swatting mosquitoes on screen-less screened porches.
For years after, many got the shudders at the sound of thunder or the whistle of the wind. They also got shutters – hurricane shutters that not only gave them peace of mind but took a little off the top of their insurance premiums that eventually doubled, if not tripled because of the storms.
After so many years without a hurricane, those premiums had just begun to drop. That is no doubt about to change.
By mid-week across the area, day turned to night in the orchestrated solar eclipse of those shutters going up. For those who couldn't make that sizeable investment, there were decade-old plywood sheets still tattooed with trash talk for Frances and Jeanne.
"Every boy in Indian River County is putting up shutters today," tweeted a Vero high school girl. "Lol I love it!"
Already on Tuesday, traffic seemed heavy on North A1A, as hired help arrived for preparations and residents ventured out for provisions. By Wednesday, shopping center parking lots looked more like Black Friday as people stocked up on food and supplies. At Sam's Club, they walked past inflatable Halloween skeletons; shoppers, frightened enough, figured Matthew would do the decorating.
And then there was the news. Already covering the political storm, newscasters started wondering how Matthew might affect the election. "People may be more concerned with their homes and property than the debate Sunday," mused NBC's Andrea Mitchell.
For Vero, the wheel-spinning wait began in earnest Wednesday night, when the forecast models seemed to have Matthew as a staggeringly strong 140-mph Cat 4 coming ashore around Cape Canaveral. But several respected models put landfall on the Treasure Coast late Thursday or early Friday, its eye smack on Vero.
The storm surge would be the same as in Frances and Jeanne, we were warned. "But add in the high tide sometime after midnight," warned WPTV's veteran meteorologist Steve Weagle, who broadcast for 67 hours straight during Hurricane Frances.
By evening, talk about the storm's ludicrous loop-di-loop began, adding another dimension of double-dose deja-vu.
Thursday morning, a mandatory evacuation order went out for Vero's barrier island. Residents had to make what they knew could be a fateful decision to evacuate or ride it out.
Meanwhile, west of town, citrus growers worried whether their struggling trees would drop this year's already lousy crop, or potentially topple altogether.
As recommended, horse owners turned their horses out to pasture, always a worrisome moment. Rancher and poet laureate Sean Sexton was laid up with back surgery, leaving his son Mike to tend to the livestock, including, as Mike's mother Sharon Sexton posted on Facebook, "80 calves and a few cows in labor."
"They huddle in a group and turn their backs to the wind," she wrote, having witnessed the bovine hurricane-party instinct many times before.
Thursday morning, Gov. Rick Scott gave yet another press conference, flanked by what were presumably disaster-related officials. Unnervingly, Scott himself seemed close to undone. Once again, he issued his clipped directives in hyperbolic shorthand. "Do not surf. Do not go to the beach. This will kill you," he barked.
Here at Ground Vero, the head-pounding change in pressure added to the angst of last-minute prep, compounded by the worsening forecast. Visions of potential projectiles danced in minds and strained backs, as clay pots, birdbaths and picnic tables were hauled into already jam-packed garages. The needs of older relatives and the youngest children were top priority, but there was ample fretting about pets
As the storm hovered 200 miles away, Weagle warned of the sound to expect, "Like thousands of wolves howling," he said ominously.
The worst of the wolf howls seemed to come between midnight and 2 a.m., when the lucky among us were nodding off. Those who didn't lose power saw the increasingly bleary-eyed newscasters start to repeat themselves.
One TV reporter stationed at the Indian River Mall was asked to tell viewers about the status of debris. Straining to find any in the deluged but utterly empty parking lot, he finally hit on something. "There are plenty of these," he announced dramatically, bending down to pick up what looked like a curly brown stick. "Palm tree leaves," he declared with authority.
The poor guy, an obvious newcomer, repeated the term as the night wore on. With no one correcting him, we were left to wonder if the crew in the studio wasn't in on some area-wide hurricane party doing vodka shots every time he said it.
By dawn, the howling winds had piped down to a steady whoosh. On the weather maps, the eye of the storm had scooched up toward the Cape. A collective peek outside mostly showed Vero was still intact.
In fact, the highest speed recorded in Vero was 84 mph, the minimum hurricane force wind.
The "kiss from God" that spared us, as the Martin County sheriff put it Friday in a voice full of emotion, was the kiss of death in Haiti, where storm fatalities are running as high as 1,000, more terrible loss coming on top of the catastrophic earthquake of 2010.
 And just three days after Vero had the all clear, Matthew caused devastating flooding in North Carolina, leaving 1,500 people stranded.
As what might have been fully sinks in, Vero is left to do what it does best: After picking up the sticks and shingles, many of its residents will pull out their wallets and donate to those who are suffering.
Two Vero-based Haitian charities take donations on line: the medical and dental services organization Haiti Clinic at haiticlinic.org, and Haiti Partners, a Christian education and social business effort that has partner schools in the affected area, at haitipartners.org. You can also mail checks Haiti Clinic at 865 37th Place, Vero Beach, FL 32960.