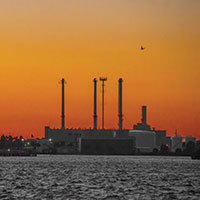 Electric utility again top issue in Vero election
STORY BY LISA ZAHNER | NEWS ANALYSIS

Vero Mayor Jay Kramer and Councilwoman Pilar Turner, who are not running for re-election, may have grown weary of leading their oft-opposing factions in the utility wars these past six years, but those who win their seats in November will inherit the burden of resolving the longstanding dispute over whether or not to sell the city's electric utility.
Past Vero elections have divided the field into "pro-sale" and "anti-sale" contingents, and since the matter is still unsettled, those hopeful of gaining or retaining office this year also will be judged by their stance on the electric issue.
This time around, the litmus test appears to be whether or not candidates would approve a resuscitated $30 million offer from Florida Power & Light to purchase Vero Electric's 3,000 customers in Indian River Shores.
Positions can be fluid as candidates debate and get their marching orders from voters while canvassing neighborhoods and campaigning around town, but it seems three people vying for three seats are staunchly in favor of letting the Shores customers go, while three others lean toward defending the status quo and keeping Vero electric whole.
Laura Moss is up to bat a second time after falling short in the 2015 city council race. Since that loss, Moss has positioned herself as chair of the all-important Vero Utilities Commission, where proposals having to do with the sale of the utility are sent to be vetted and sometimes to die.
Moss has come under direct fire from Councilman Dick Winger, who says she has over-stepped her advise-and-consent role and gone rogue with her committee, taking tough stands including a unanimous recommendation to sell the Shores customers and assets for $30 million.
Unless she does a complete U-turn, Moss seems a safe "yes" vote should FPL extend its offer down the road to a friendlier city council that no longer includes anti-sale leader Kramer.
Lange Sykes, a barrier island Realtor, artist and conservationist, has spoken forcefully in favor of Vero moving forward with the deal to sell the Shores. But after a nasty Republican primary battle with Erin Grall for a Florida House seat, Sykes will have to overcome the bad taste he left in voters' mouths and mailboxes with an onslaught of ugly campaign mailers and advertisements.
Should he be able to shift the discourse to the city office he now seeks, Sykes is expected to be a solid vote in favor of off-loading the Shores customers in exchange for a sorely needed $30 million cash infusion into the city.
Norman Wells is the other possible pro-sale candidate on this year's ballot. A retired battalion chief with Indian River County Fire-Rescue and a very sharp guy, Wells has served on the fringes of electric politics in a leadership role with the Taxpayers Association of Indian River County.
Wells was encouraged to run by utility activist and CPA Glenn Heran, who signed on as Wells' campaign treasurer, and he's expected to get support from various public safety unions that tend to be loyal, enthusiastic volunteers for their chosen candidates.  Wells was a late-comer to the race and, being new to the Vero elections scene, will be one to watch as his positions on the city's other top issues emerge.
Each election cycle typically produces a candidate so steeped in Vero heritage that they prove extremely tough to beat, and this time around that person is retired Army veteran of three wars and prolific volunteer Tony Young.
Grandson of Vero's first mayor, a 60-year McAnsh Park resident and third-generation Vero native, Young has served the city and its veterans in many capacities, advocating for improvements on Memorial Island and helping save the city cemetery from sale or privatization.
According to his public statements and campaign material, Young hails from the "Keep Vero Vero" crowd and is popular with city employees – especially the police.  If elected, it is unlikely he would do anything to shake up city operations.
However, with regard to whether he would support sale of the 3,000 Shores electric customers to FPL, Young had this to say:
"Like some others, I was disappointed by the missed opportunity.  The timeline created a rush to judgment that worked against obtaining a deal.  A counter offer that bridged the concerns of the Council might have worked! Reasonable protection against unforeseen potential costs is essential. The proposed transaction deadline created an unnecessary impediment.
"A partial sale that addresses the concerns of all the rate-payers is still possible. My goal is to obtain the lowest sustainable electric rates for all VB Electric customers.  In the end, that is the standard any sale should achieve."
Sharon Gorry is another hometown candidate, a 1967 graduate of Vero Beach High School born and raised in Vero. Her late father was the ever-colorful Orval Shelton, who surprised Vero Isles neighbors by sinking his houseboat into a huge hole in the ground and building a two-story home around it.
For those who don't get to know her personally prior to November's election, Gorry may also be somewhat defined in this race by another well-known man in her immediate family – her husband Peter Gorry, the outspoken chair of Vero's Finance Commission. She said Peter hopes to remain on the Finance Commission if she is elected and that she does not see it as a conflict.  "But I can't appoint him," she said.  "He was Jay's appointee. Someone else would have to appoint him."
Branded as "anti-sale" by some activists, Gorry said her concerns about selling part or all of the electric utility stem back to the Florida Municipal Power Agency legal juggernaut. "I'm relatively sure that the FMPA contracts are ironclad, there is just no way to exit, and if there was it would cost millions and millions of dollars to do that," Gorry said.
She said she understands people are angry about the rates and that they've been angry since the era of the first Orlando Utilities Commission contract when electric bills doubled.
"I'm not opposed to selling Vero electric, but in selling the utility there are things you have to consider," she said. "It can't harm the taxpayers or the ratepayers or the employees of the utility, that wouldn't be fair."
Gorry said issues she hopes to impact include the health of the Indian River Lagoon, the upkeep of city roads and infrastructure, concerns over the All Aboard Florida train and the continuation of a robust offering of community events and recreation programs, just like when she was a kid learning gymnastics and going to summer camp.
Gorry lists in her professional experience owning a Notary Public services business for eight years and nearly two decades as a volunteer putting on equestrian events.
Rounding out the field of six is the only incumbent in the race, Randy Old. Throughout his two years on the council, Old has complained that matters relating to the electric utility were so complicated that he begged to ditch his board membership in the FMPA and send someone better qualified.
Old does not say much during city meetings, but typically votes in lockstep with Kramer and Winger. Old voted against accepting FPL's $30 million offer to purchase the Shores customers, instead approving an artfully manufactured motion by Kramer to accept the sum of $47 million, which was never actually on the table.
Various political and community organizations will question the candidates in private and in public forums in the lead-up to the Nov. 8 election. Early voting begins Oct. 24 and turnout is expected to be very high with the upper ballot races, including president and U.S. Senator up for grabs.
Meanwhile, in Indian River Shores, the contest for three seats was decided without an election, as only three candidates qualified. Mayor Brian Barefoot will return to office. Vice Mayor Jerry Weick was term limited and Councilman Tom Slater did not run for re-election, leaving two seats open that  will be filled by long-time John's Island resident Debbi Peniston and Shores Finance Commission head and Vero Utility Commission Vice Chair Bob Auwaerter. Auwaerter has been critical of the City of Vero Beach and its utility operations.
The Town of Orchid also settled its election "contest" without going to the November ballot. Harold Ofstie, Orchid's current mayor, will return to office for four more years, and the second open seat will go to Thomas Buck, the only contender. Oftsie and Buck will be seated at the first meeting following the Nov. 8 election and will be sworn in for terms ending November 2020.