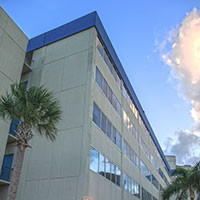 Hospital exec who departed paid $782K
STORY BY MEG LAUGHLIN

Newly released records show that a former Indian River Medical Center executive, who departed in 2013 ostensibly as a cost-saving move, was subsequently paid more than three-quarters of a million dollars after she left.
Former Chief Operating Officer Cindy Vanek, a longtime registered nurse at the hospital who served five years as COO, resigned her position at Indian River Medical Center in August 2013, according to a memo put out by CEO Jeff Susi at the time, who called her departure "a mutual decision" to save money.
Now, newly released tax records show that Vanek actually remained on the hospital payroll until Oct. 1, 2015 – more than two years after she stopped working there – grossing close to $800,000 in compensation after her departure, at a time when the hospital was struggling with dramatic cuts in staff. 
A year ago, Susi said the $568,000 Vanek collected the first year after she left was "no more or no less than she deserved." He also called her "an invaluable member of IRMC's executive team" – even though he played a significant role in the decision to let her go.
At the time, Hospital District chairman Tom Spackman wrote Hospital Chairman of the Board Wayne Hockmeyer and asked for an explanation of the $568,000.
Susi replied that when Vanek left at the end of August 2013, she was due 52 weeks of severance pay, made up of salary, health benefits and a supplemental retirement bonus, making the $568,000 amount she was paid about $100,000 more than she earned the year before, when she worked.  
Now, tax records show Vanek received an additional $215,094 in fiscal year 2014, which ended Sept. 30, 2015, bringing her total payout in the two years after her departure to $782,772.
Her 2014 "compensation" was only about $12,000 less than what her replacement, Steve Salyer, made that year actually working at the hospital.
Hospital Communications Director Lewis Clark said that Vanek received $279,988 in severance pay between September 2013 and September 2015, but did not explain the additional $502,784 in compensation she received. 
Further, Clark responded to a question about a 5.5 percent pay cut that Susi announced he was taking between 2013 and 2015 by saying the cut was to his base pay. Tax records show that Susi's supplemental retirement bonuses and other benefits turned the salary cut into a compensation increase of over $100,000 for that period. The just-released tax document shows that Susi made $1,078,061 for fiscal year 2014.
In his response, Clark added that Susi's salary cut was voluntary and remains in effect today.