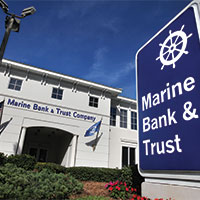 Marine Bank acquires a Sebastian branch
STORY BY ALAN SNEL

Marine Bank & Trust, the only locally-owned bank on the island, is continuing its expansion into Sebastian with the acquisition of the Valley National Bank branch at 1020 U.S. 1.
It will re-brand the branch into a Marine Bank location after the close of business on Oct. 21.
Marine will assume a majority of customer deposits in the transaction, though some will be transferred to Valley branches in Vero and Barefoot Bay.
Valley National Bank customers will receive details on any changes to their accounts before the transition is complete. The three Valley Bank employees at the branch will become Marine Bank employees.
Marine Bank, which is based in Vero Beach and has $206 million  in assets, made the deal in order to beef up its services for customers in north Indian River County, said Bill Penney, Marine Bank CEO and president.
The bank has 200 customers with Sebastian mailing addresses for whom the new branch will come in handy.
Penney declined to reveal how much Marine paid for the branch, but did say the purchase includes the 1.3-acre lot and the 2,200-square-foot building. The branch is located on the east side of U.S. 1 two blocks south of Main Street. Penney said it has a spacious four-lane drive-thru.
Marine Bank's board of directors unanimously approved the deal following a comprehensive review of the transaction and other strategic and financial alternatives. The bank has received all required regulatory approvals from the FDIC and Florida Office of Financial Regulation.
Marine Bank is not new to Sebastian. It has been operating a loan production office at 990 U.S. 1 since August of 2015. Penney told 32963 that he began working to acquire the Valley National branch about a year and a half ago.
Founded in 1927, Valley National Bank is based in Wayne, N.J., with 211 branches in New York, New Jersey and Florida, according to its website. The Sebastian branch has 600 customers and assets of $14 million in customer deposits.
Penney said the banking industry is seeing a trend in which more large multi-branch banks trim off offices and sell them individually, so this transaction is not unusual.
Marine Bank has two full-service branches in Vero Beach and the loan production office in Sebastian. The Sebastian branch will be its fourth location. Penney said the bank is always looking for expansion opportunities, but has no other pending deals.
Chartered in 1997, Marine Bank is the only community bank headquartered in Vero Beach.