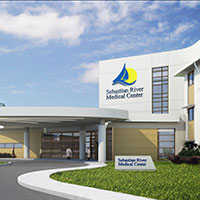 Sebastian River hospital not impacted by owner's woes
STORY BY MEG LAUGHLIN

A dramatic plunge in the stock price of Community Health Systems, which owns the Sebastian River Medical Center as well as the Wuesthoff Medical Centers in Melbourne and Rockledge, has created widespread speculation over whether CHS will sell any of these hospitals as part of a larger sell-off of the hospitals it bought from Health Management Associates in early 2014.
The speculation began over a week ago after Bloomberg reported that CHS was exploring the sale of at least a dozen of its 61 HMA hospitals – it has already sold 10 – after most lost money in the past two and a half years. A year ago CHS stock hovered at around $60 a share; it has now dropped to between $10 and $11 a share.
A major reason for the downturn, says CHS leadership, is difficulty turning around the HMA hospitals that are struggling financially.
Fortunately, however, Sebastian River Medical Center and Wuesthoff appear to be operating solidly in the black, making it very unlikely that these hospitals will go on the chopping block.
Tomi Galin, spokesperson for CHS, did not respond to a questions about whether any of these local hospitals are for sale.
But a hospital consultant, who works closely with the Sebastian hospital, called its sale "very unlikely," explaining that "the profitability of SRMC and the large CHS capital investment in the hospital are both reasons why it would not make sense to sell it."
The consultant further said that the Wuesthoff Medical Centers in Melbourne and Rockledge also are not among the hospitals that are candidates to be sold.
Monday night, the CEO of Sebastian River, Kelly Enriquez, said in an email to 32963: "Sebastian River Medical Center is committed to meeting the needs of our community and continues to invest in resources to enhance the care we provide.
"Our August 29 groundbreaking ceremony marked the beginning of a $64 million expansion project that will provide new operating suites and private patient rooms. Physician recruitment has been very successful too as within the last year we have added over a dozen physicians to our medical group and we are recruiting others to complement our medical services. Making high quality health care locally available for residents is our focus."
In January 2014, when Franklin, Tenn.-based Community Health Systems bought the 71 hospitals that made up the Health Management Associates chain, Steve Salyer, the then-CEO of the Sebastian hospital, praised the purchase for putting Sebastian River Medical Center "in a stronger position to succeed in an ever-changing healthcare landscape." 
But, at the same time Salyer was publicly supporting the CHS purchase as chief of Sebastian, he was secretly negotiating to work as COO of Indian River Medical Center and privately questioning whether the HMA hospitals purchased by CHS would exist down the road. (His concerns appear in sworn depositions in a court case.)
In January 2014, when CHS paid $3.9 billion for the HMA hospitals – 23 of them in Florida – Wayne Smith, CEO of Community Health Systems, said the purchase would further advance the commitment HMA had made "to pursue clinical excellence and to deliver quality care for patients."
While this prediction appears to have been true for Sebastian River Medical Center, it is not true for many of the HMA hospitals purchased by Community Health Systems. In the past six months, CHS has made $1.2 billion selling off hospitals, but its stock continues to struggle.