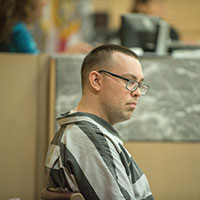 Two years after Duve murder, trial still not set
STORY BY LISA ZAHNER
Photo: Michael David Jones was indicted on first-degree murder charges.

It has been two full years since former beachside banker Michael David Jones was indicted on first-degree murder charges for the strangulation death of his girlfriend, 26-year-old Moorings resident and Sebastian River Medical Center nurse Diana Duve. But attorneys still aren't ready to try the case.
Judge Cynthia Cox inherited the case in January when she took over the criminal caseload from Judge Robert Pegg as part of a routine reassignment of duties throughout the 19th Judicial Circuit. Prosecutors and defense attorneys agreed as last week's docket call approached that they needed more time to prepare for trial.
Jones has been in jail since he was taken into custody on June 26, 2014, after police searched for several days for Duve, who had been reported missing by her mother Lena Andrews, and for Jones. Jones was found in a hotel room near I-95 in Fort Pierce, with the help of cellphone search technology. Duve's body was found in the trunk of her car in a Publix parking lot on Babcock Street in Melbourne.
Jones' Fort Pierce location at the time of his arrest violated the terms of his probation in a Broward County aggravated stalking case involving one of his ex-girlfriends. To face that and another Broward County charge, Jones was transferred to Fort Lauderdale, where he stayed for a year and a half awaiting trial.
After his Broward cases concluded this June, with Jones having his probation revoked in the aggravated stalking case and being found innocent in a domestic battery case, he was returned to Indian River County.
Since Jones returned to the Indian River County Jail, his legal team in the Public Defender's office here has scheduled depositions of numerous law enforcement officers involved in the investigation, including lead Det. Bradley Kmetz, who has yet to be interviewed by attorneys.
Police Chief David Currey said he's confident in the police work of his team of detectives and officers who handled the search for Duve and the eventual murder investigation that led to Jones' indictment two years ago. Currey has not yet been scheduled for a deposition and he said he does not know whether he will be called to testify.
"Our job is to do everything right from the beginning and to see everything through, to dot the I's and cross the T's, knowing that it's not going to be anytime soon," Currey said, noting that the island's last big murder trial, the Brian Simpson case, took a full three years from senseless killing to sentencing.
"I think the families would like to see it come to a close before it does, and so would we, but once our case is prepared, unfortunately it's a waiting game," Currey said. "We make sure regardless of when it is going to go to trial that we're prepared . . . That's the key when your case does come to trial, it's about thoroughness and preparation."
Assistant State Attorney Brian Workman, who is prosecuting the murder case, was in the Fort Lauderdale courtroom when Jones was acquitted on an unrelated domestic battery charge filed by a former girlfriend. In that case, inexperienced police officers were called into question for shoddy record-keeping and a lack of memory of the incident. Currey said he doesn't expect any hiccups like that when Jones is tried for murder in Vero.
"It's all about care and effort from the time you get the call. Care and effort and usually things work out," he said.
Most of the key witnesses for the state are expected to be Currey's officers, backed up by technical evidence in the form of cellphone locator data and a videotape showing Jones at a Wendy's restaurant on Babcock Street across from where Duve's body was found in the trunk of her vehicle.
The tape shows Jones getting into a taxi, which took him to Vero Beach and let him out near his Carolina Trace townhome where police say the murder had occurred. The cab driver was found and interviewed and is expected to testify at trial.
Notices have also been issued for the taking of depositions from seven employees of the Ocean Drive branch of PNC Wealth Management where Jones worked. Jones had a law degree but had never been licensed as an attorney.
He was using the financial planning training he received at the University of Miami to work as a wealth management advisor.
Jones is on record in jailhouse visitation videos telling his co-workers he can't wait for the chance to tell his side of the story, but he didn't indicate what that might entail. In the Broward domestic battery case in which Jones was acquitted this spring, he took the stand in his own defense and presented a version of events that succeeded in planting the seed of reasonable doubt with the jury. It is yet to be seen whether Jones will testify in the murder case here.
If convicted of first-degree murder, Jones could face the death penalty should 10 of his 12 jurors deem that punishment appropriate.