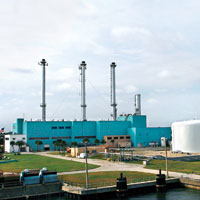 Council tries to tamp down electric sale speculation
STORY BY LISA ZAHNER

Sometime in the next 10 days, Florida Power & Light is due to bring Vero a brand-new letter of intent to purchase the city's entire electric system. In the meantime, the majority of the City Council has voted to squelch discussion of the yet-unknown terms.
Councilmen Dick Winger and Tony Young voted against the measure, urging that any offer from FPL be fully vetted through the city's volunteer advisory commissions.
Mayor Laura Moss brought the issue up at the last Council meeting, taking Winger to task for tossing around large, seemingly random numbers related to what it will cost the city to exit its long-term power supply contracts. Vero's inability to exit those contracts killed previous efforts to get out of the electric business, but over the past few months, city officials appear to have made inroads on that front.
Moss said the Florida Municipal Power Agency and the Orlando Utilities Commission, the two entities that would have to sign off on a sale of Vero electric, intently watch and listen to Vero's proceedings, and argued that city officials shouldn't give away strategy or cite dollar figures for anything that's currently under active negotiation.
"This is a sensitive, high-level negotiation that only will be harmed by any premature discussion of specific terms," Moss said. "I caution the councilmen – especially Councilman Winger – not to discuss specific numbers unless he is prepared to write a personal check for that amount."
Winger took issue with this, calling Moss "out of line" and defending his and the advisory commissions' rights to talk about anything of importance to the city. "I'm going to protect the voter," Winger said.
The City Council has a regularly scheduled daytime meeting on May 2, but according to Moss, the pending electric deal will not be on the agenda.
The advisory commissions were also warned not to armchair quarterback any offer that might hit City Hall prior to the May 9 special City Council meeting called specifically for the purpose of reviewing FPL's latest offer.
City Clerk Tammy Bursick said the Finance Commission has a May 1 meeting on the calendar, but that meeting had already been called prior to the council gag-rule vote. The Finance and Utilities Commissions typically review any major deals or contracts the city considers related to the electric, water or wastewater utilities.
On at least two previous occasions – the 2007 Orlando Utilities Commission electric contract and dealings related to Dodgertown and baseball – City Council members have agreed in private to refrain from publicly discussing ongoing negotiations in order to comply with confidentiality clauses in contracts or bid documents.
But when asked, Bursick said that in her 32 years in the city clerk's office, she'd never before seen a city council vote to effectively gag the city's elected and appointed boards and commissions from discussing a topic.
"It's certainly different," she said on Monday, noting that she's not sure whether or not FPL will be providing backup documents prior to the May 9 meeting, or if the council will be handed those documents during a live presentation of the letter of intent or term sheet.
In 2011, FPL sent its $100 million cash offer, plus other considerations amounting to $72 million, to the city and gave it time to review the offer prior to the first presentation.
That offer involved FPL taking over the power plant and decommissioning it over a five-year period.
In the interim, Vero has shuttered Big Blue and is in the process of taking it down.
FPL also committed to offer job opportunities to the city's 100-plus electric utility workers.
It is unclear whether or not that will be part of the latest deal.