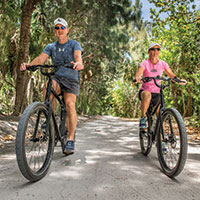 Crashes, near misses prompt push to close section of Jungle Trail to cars
STORY BY DEBBIE CARSON
Photo: Matt and Maggie Lechowicz bicycle along historic Jungle Trail.

The days of joyriding along the northern section of the Jungle Trail could soon be over.
Following a fatal crash last year on the trail and countless near misses between vehicles and people walking or riding bikes, island resident Matt Lechowicz has crafted a petition to the County Commission asking it to shut down the 3 1/4-mile portion of the trail north of route 510 – allowing only non-motorized traffic on the sand and shell road.
The idea has garnered interest from County Commission Chairman Joe Flescher and Metropolitan Planning Organization Director Phil Matson.
"I do have some concerns about leaving [Jungle Trail] as it is," Flescher said, adding that he would support closing the historic road to traffic to improve safety only if emergency responders would still have unfettered access.
Matson said he has not yet reviewed Lechowicz's plan in detail, but is "certainly in favor of anything that will improve Jungle Trail."
"No one really sees a need for vehicular traffic," Lechowicz told Vero Beach 32963.
Posted online, Lechowicz's petition has generated dozens of comments in support of closing the road to cars and trucks, which include complaints about speeding, illegal trash dumping and constant degradation of the road.
"Nearly killed while walking my dog a few times," wrote one commenter identified as Chris Avery of Vero Beach.
Tom Bianchi wrote, "There is constant abuse by motorists, especially on the curves where they want to practice their sliding skills. Someone is going to get killed!!!"
That's what happened in February 2016.  An SUV speeding along Jungle Trail didn't make it around one of the many curves and struck a tree, sending all three people to the hospital in critical condition. One of the passengers ultimately died of his injuries.
The Indian River County Sheriff's Office has responded to at least nine calls for service along Jungle Trail since this time last year, according to records obtained by Vero Beach 32963. Most of the calls were at the intersection of Jungle Trail and route 510, where there was another serous accident with injuries last Friday.
Matson and others have tried in the past to come up with ways to improve pedestrian safety along the north portion of Jungle Trail, but no plan has gotten enough community support to proceed. Lechowicz hopes people will rally round his idea for the future of the scenic and historic stretch of roadway.
He says closing off Jungle Trail to vehicles would eliminate much of the damage that occurs to the soft roadbed, and allow cyclists and walkers, as well as equestrians, to navigate the road without fear of being struck by a driver who doesn't see them around one of the many blind turns.
Lechowicz's plan calls for bollards to be placed at the entry to Jungle Trail from route 510, blocking passage of motorized traffic. The bollards could be mounted with locks that could be unlocked to allow authorized vehicles through, such as emergency responders and mosquito control.
"It shouldn't be a hindrance," Lechowicz said, explaining that motorists who want to access Pelican Island National Wildlife Refuge or the kayak launch along Jungle Trail could still do so from the north, off A1A
Jungle Trail was constructed in 1920 as the first public road on Orchid Island, according to Lechowicz's research. In 2003, it was placed on the National Register of Historical Places. Along its route stand the remains of the Ais Indian middens, pioneer settlements, and a mixture of upland scrub, mangrove marsh, oak hammock and remnants of the citrus groves that once covered much of the island.
When Orchid Island Golf and Beach Club was built, the northern portion of Jungle Trail was realigned, creating several sharp turns that make the trail scenic for pedestrians but challenging for motorists.
"It's clearly not a safe place to be [walking or biking]," Lechowicz said.
"I'm in favor of preserving the natural beauty" of Jungle Trail, Flescher said, explaining that the trail was one of his first experiences when he moved his family to Indian River County two decades ago.
Lechowicz plans to present his proposal to the Metropolitan Planning Organization in October, after seasonal residents begin returning to Vero. If the MPO signs off on the plan, he hopes it will be passed on the Board of County Commissioners for approval.
Information about the proposal can be found at www.change.org by searching "Jungle Trail."