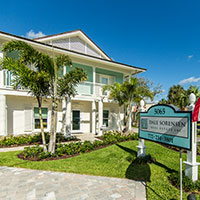 Dale Sorensen Real Estate ranks among top 500 U. S. brokerages
STORY BY STEVEN M. THOMAS

Of the more than 86,000 residential real estate brokerages in the United States, a firm based in tiny Vero Beach, Dale Sorensen Real Estate Inc., was one of the country's top 500 realty businesses last year with more than $600 million in sales.
Sorensen was the only Vero-based company that made it onto the widely-respected Real Trends 500 list released last week, coming in at No. 404, and it will almost certainly rank higher in 2017 as the company continues to expand, with plans to open three new offices by the end of summer.
The only other Vero-connected company to appear on the list was Berkshire Hathaway HomeServices, Florida Realty, the brokerage that entered the local market in 2015 when it bought Norris & Company. Berkshire Hathaway HSFR, a Fortune 500 subsidiary headquartered in Sunrise, Florida, did over $3 billion in sales in 2016 but that was through more than 40 offices scattered across the state.
Founded in Vero in 1978, Dale Sorensen Real Estate has achieved phenomenal growth in recent years, increasing sales by more than 500 percent since 2009.
"The figures are amazing to me," says managing partner Dale Sorensen Jr. "Consider that in 2009, we closed on $121 million in total sales, equating to $10 million a month. Now we are at more than $50 million per month," which averages to nearly $1.7 million per day in closings, 365 days per year.
In 2016, the company closed more than 1,000 transactions worth $435 million in Indian River County, including $250 million on the barrier island, where it achieved a 25 percent market share.
Sorensen expanded to Brevard County in 2014, opening an office in a cool mid-century modern building on 5th Avenue in Indialantic, across the SR-194 causeway from Melbourne. It closed 573 transactions worth $191 million in Brevard last year.
Add $22 million in sales in St. Lucie County, mostly on the lower stretch of the barrier island, and the total comes to $617 million, which was good enough to land the company solidly on The Real Trends 500 list and make it the 29th largest brokerage in Florida in terms of sales.
Sorensen currently has 175 agents – 110 in Indian River County, 65 in Brevard – working in five offices.
A new office will open in Sebastian in May, followed by an office in Cocoa Village in early June. The Cocoa office will be in the busiest part of the village, overlooking the park and river. "We are excited about that," Sorensen says. "We already have agents signed up."
The company's third Brevard office – besides the ones in Indialantic and Cocoa – will be relocated this summer from Wickham Road to a new location with better visibility on Suntree Boulevard in Viera. "We are successful because of the commitment we have to supporting our agents," says Sorensen. "As an independent, family-owned company, we have the flexibility to adapt and improve and continually provide our agents with the best possible tools to grow their business."
He mentions a new app just provided to agents as an example. Each agent has their own personalized app that allows them to track and analyze the market and share information with clients in real time to move the buying and selling process forward.
The app works in sync with the company website, which is being completely overhauled for the second time in two years to better meet agent needs, another example of ongoing operational upgrade
The company has the cash flow for a hefty marketing program to pull in clients and continually works to extend and improve its brand, partly by sponsoring and supporting events and organizations in the community. For instance, Matilde Sorensen, who co-founded the company with her husband Dale Sorensen Sr., this year launched and is sponsoring the first ever Vero Beach Easter Parade.
Sorensen's strong showing in 2016 came despite significant business challenges that included the departure of two top managers who left with strings of agents in tow.
Dale Sorensen Jr. says the company's continued success after the defections shows the durability of the company's infrastructure and culture.
"When agents leave, others step into their places. With the branding, marketing, sales training and all the other support we provide, the agents and company continue to thrive," he says. "I never know who the next top-producing agents are going to be."
Real Trends President Steve Murray says his real estate services company was founded in 1987. This is the 30th year it has put out its list of the top 500 brokerages in the United States. The company requires multiple sources of information to verify sales it tabulates in composing the list, including third-party verifications such as letters from local real estate boards validating company figures.
"We have worked with Steve Murray and his wonderful group," says Gena Grove, one of the island's leading realtors and former co-owner of Norris & Company Real Estate, before it was acquired by Berkshire Hathaway HomeServices Florida Realty. "They are very impressive and very hands-on. There is nothing about them that is not four stars."
In order to make it into the Top 500 in 2016, brokerages had to close at least $505 million in sales. That was $53 million more than it took to get on the list in 2015.
According to Real Trends, the Top 500 firms collectively closed 3,110,960 transactions worth more than $1 trillion dollars, an 8.8 percent increase over 2015.