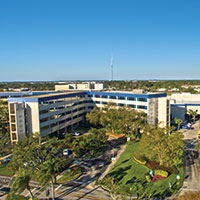 Hospital puts $100M tower plan on shelf
STORY BY MICHELLE GENZ

A preliminary proposal to build a $100 million tower containing upgraded patient rooms at Indian River Medical Center has been put on hold indefinitely, according to sources – an apparent casualty of the financial and leadership upheaval at the hospital and a newly mounted strategic look at its fundamental ownership structure.
News of the shelving of the proposed hospital addition, which would have contained larger state-of-the-art patient rooms, emerged during a presentation a week ago by consultants hired to study IRMC's future.
Hospital CEO Jeff Susi had hired an architect last year to draw up preliminary plans for an in-patient tower, and the architect made an initial presentation to the IRMC board in November. The board agreed to focus on designs of five and six stories.
Susi first talked publicly of the five-year, $100 million plan at the December Hospital District board meeting. He said at the time that expansion plans were at an early stage, but that the need for new and larger rooms was clear.
However, barely a month later, Susi announced – just days after it was disclosed that IRMC had a first-quarter loss of $4 million – that he would be retiring at the end of this year.  Shortly after that, the Hospital District announced the formation of a collaborative committee to look at restructuring the hospital.
The wisdom of investing $100 million in a new patient tower was raised with consultants last week by board member Matt Reiser, who asked Stroudwater Associates' Jeff Sommer if national trends away from inpatient care and increases in outpatient revenue should give the hospital pause about proceeding.
"Does it still make sense to build a $100 million new patient tower with these things going on, or would it make sense to redirect those resources to something we know is going to be going on – outpatient?" asked Reiser.
Sommer said that while outpatient and ambulatory care is clearly growing, "if you neglect the inpatient facet, it has the opportunity to taint the entire process."
"Now whether that is the highest and best use of $100 million is a good question to ask," he said. "But I wouldn't draw a macro conclusion just because inpatient isn't growing as fast as outpatient ... I think it's a more complex equation."
A second Stroudwater consultant, Scott Goodspeed, said the question is a common one among his hospital clients. "Over the past 24 months or so, half of the boards I've worked with were asking the same sort of question: Should we be making these sizable investments? There's been a real reassessment."
That is when Hospital Board Chairman Wayne Hockmeyer weighed in. "We talked about this originally in very preliminary terms six months ago, and we consciously stopped just for that reason," he said. "We needed to assess what the need might be, and we just didn't feel like we had the answers at that time."
Hospital Foundation board chair Tony Woodruff said during the March hospital board meeting that impending changes in leadership and uncertainty about the hospital's future have significantly impeded fundraising.
"Our ability to raise funds right now is sort of at a standstill," Woodruff said. "It's not that money's not still coming in; I think, though, that a lot of people want to wait and see what happens in terms of the CEO and some of the other problems we have, and the meetings that are going on with the collaborative group."