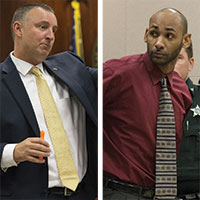 Prosecutor: Reversal of murder conviction 'inconceivable'
STORY BY LISA ZAHNER
Photo: Chief assistant state attorney Tom Bakkedahl, who prosecuted accused murderer Henry Lee Jones, in the courtroom during 2014.

The reversal of a 2014 conviction in the shooting death of 41-year-old Central Beach resident Brian Simpson shocked prosecutors and police who worked the case, but they say they're ready to try Henry Lee Jones again for the November 2011 killing.
In 2011, Simpson encountered a burglary in progress when he returned to the Fiddlewood Drive home he shared with his wife and children. After a struggle, Simpson was shot through the door of the bathroom where the armed intruders had retreated.
Chief Assistant State Attorney Tom Bakkedahl said he had no idea the Jan. 31 appeal hearing in West Palm Beach before a panel of three judges would end in a reversal because the merits of the criminal case were so airtight.
"We were under the impression that we had a very strong position. It's heartbreaking, again. It's inconceivable that a case with the strength that this case had could be overturned on this minor issue," Bakkedahl said.
The appeals court found that Circuit Court Judge Robert Pegg made an error when he barred Jones' attorney "from questioning prospective jurors regarding their attitudes on interracial crime." 
"Reversing and remanding for a new trial is a decision not to be taken lightly, considering the emotional toll on the victim's family. However, we must also be cognizant of the rights of the defendant and our own precedent," the judges said.
Jones and burglary accomplice Darius Robinson, who testified against Jones, are black. The victim was white. During preparations for the 2014 trial, the defense attorney thought the potential jury pool should know this fact, so she could ferret out prejudice that might prevent a juror from rendering an impartial verdict. Bakkedahl objected.
Attorneys approached the bench and Pegg ruled the line of questioning would not be permitted. Jurors were selected and seated over the objection of defense counsel.
They returned a guilty verdict and Jones was sentenced to life in prison – a sentence he was serving in a Calhoun County state penitentiary when the Fourth District Court of Appeals reversed his conviction on April 12.
The appellate ruling came after the appeal was argued by Mark Hamel of the Florida Attorney General's Office and Stacy Niles Kime, an appeals specialist with the 15th Circuit Public Defender.
Each attorney was afforded 20 minutes, which Kime used to paint a picture of a very white community where two young black men were noticed by residents just for being in the neighborhood.
She pointed out how island residents testified to seeing the defendants, that it was a rare enough occasion to be memorable, and that one man had even texted a family member to warn of "unsavory characters" after seeing Jones and Robinson. She also cited case law showing that questions about potential jurors' attitudes regarding black-on-white violence should be allowed.
Hamel argued the case was not about race, and said he guessed Bakkedahl objected because he felt the line of questioning could be prejudicial. At one point toward the end, after being grilled by the three-judge panel, Hamel came very close to conceding that Pegg might have allowed the questions – but that the omission was not a grave error.
"I think the logic of this opinion is flawed, I really do. I'm sick about it frankly," Bakkedahl said. "There's no need to inject race into this trial. There were no racial overtones; it was a crime of opportunity. It was completely inappropriate to inject that into the case."
Diamond Litty, Public Defender for the 19th Circuit, begs to differ. She said she was aware at the time the case was tried in 2014 that her attorney assigned to the case was not permitted to question the jurors about interracial violence, which she said is "an issue that comes up on a frequent basis  . . . The scrutiny for these cases is enhanced because they are serious cases," she said.
Bakkedahl praised his colleagues, and the police who worked the scene and caught the perpetrators. "Everybody involved in the case worked extremely hard on it and put a lot of blood, sweat and tears into it, and to have it turn on something as narrow as this is devastating," he said.
"It's the kind of thing that makes people lose faith in the justice system. The worst part is how we all feel for the family. I feel so bad for Kristin and the family. I've never had a murder case reversed before."
Bakkedahl said he was in court when the ruling was handed down, but that his co-counsel, Assistant State Attorney Steve Gosnell, and a victim's advocate gave widow Kristin Simpson the bad news personally.
Vero Beach Police Chief David Currey had the tough job of telling his officers the conviction had been overturned on a technicality. He said the news was a blow to their spirits but that they are ready for round two.
"It's unfortunate that we have to try it again, but honestly I think we'll get the same outcome," Currey said. "We feel for the Simpson family that they have to go through this again."
When a case reaches the six- or seven-year mark, it can be challenging if key personnel have retired or moved away, but Currey said he did not think there would be a problem with this case. He said his officers' memories are very clear about the horrific events of Nov. 17, 2011.
Robinson, who is serving a 10-year sentence for the burglary, will have to be transferred back to testify. His eyewitness account is key to the case against Jones.
"I don't see any problems with that," Bakkedahl said. "He was always very cooperative from the beginning. [It is a condition of his plea that he] testify truthfully in any future proceedings. If he were to refuse to cooperate, that could violate his probation and result in a longer sentence."
Assistant State Attorney Ryan Butler said the speedy trial statute dictates the new trial must begin within 90 days, but that one or both sides typically request and are granted more than one continuance.
"Typically, it's one to two years," Butler said.