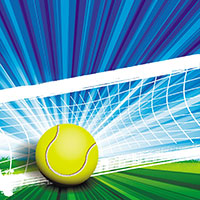 Vero rises in tennis world; considered for Fed Cup
STORY BY RAY MCNULTY

Scrambling to find a site for this weekend's Fed Cup semifinal between the U.S. and Czech Republic, a high-ranking United States Tennis Association official briefly explored the possibility of playing the matches in Vero Beach before the event was awarded to the Saddlebrook Resort, located outside Tampa.
USTA Team Events Senior Director Jeff Ryan confirmed that he contacted Randy Walker, a Moorings winter resident who serves as co-director of the Mardy Fish Children's Foundation Tennis Championships, in February to inquire about Vero Beach's ability to play host to the matches.
Walker said he told Ryan the Fed Cup event could be held at Grand Harbor, where main-draw matches at a different tournament – the Mardy Fish Foundation-run, $15,000 USTA Pro Circuit men's tournament – are scheduled to begin Tuesday.
Ryan said the USTA opted for Tampa because it would have been difficult to convince International Tennis Federation officials who oversee the annual team competition – often referred to as the "Women's World Cup of Tennis" – to put a Fed Cup semifinal in such a small market, particularly one that lacked a suitable stadium.
However, he said Vero Beach is on the USTA's radar and that any future bids for early-round Fed Cup or Davis Cup matches would be seriously considered.
In the fall of 2011, Walker, a former USTA executive who now owns a sports-marketing firm in New York, spearheaded Vero Beach's bid for the U.S. team's 2012 first-round Fed Cup bout against Belarus. The USTA awarded those matches to Worcester, Mass.
"Vero Beach probably isn't big enough for a semifinal or final, because the ITF prefers to play those rounds in larger markets and especially major cities," Ryan said.
"For an earlier round, however, we recognize what Vero Beach has to offer as a potential site in terms of climate, hotels, tennis interest and local support.
"The size of the market will be an ongoing issue, as is not having a permanent structure, which impacts our costs," he added. "If we went to Vero Beach, we'd have to erect a temporary stadium, and that can get expensive.
"But part of my job is to stay in touch with people like Randy, and he's very good at keeping me informed about the various options there."
Despite the USTA's decision to take the semifinal elsewhere, Walker said it was "flattering and encouraging" that Ryan called and welcomed his pitch for Vero Beach.
"It helps that Ivan Lendl and Mikael Pernfors live here, and that Mardy Fish grew up here," he added. "And now Mardy's foundation runs the Pro Circuit men's tournament, which is an event that has been very successful here for more than 20 years.
"I have no doubt this community, as much as it loves tennis, would support the Fed Cup," he added. "And I'm sure we also would've drawn fans from neighboring areas, maybe all of Florida, especially for a semifinal. This is the Hamptons of Florida, right?
"We just don't have a stadium yet."
The Fish foundation has been searching for a permanent home – with a small stadium-like facility that could be expanded to host Fed Cup-type events – for the past year. Walker estimated the Fed Cup would've had as much as a $5 million impact on the local economy.
"It's a bummer that we didn't get this one, but it's exciting that they called," said Fish's father, Tom, chairman of his son's foundation and the tennis director at Windsor.
"Every time we talk to them, we get closer."