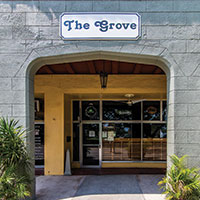 Wounded bar owner was scheduled to wed this weekend
STORY BY RAY MCNULTY

Andy Capak should be spending Saturday night celebrating with his new bride, Tiffani, at their wedding.
Instead, the 2003 St. Edward's School graduate and local pub owner will remain in an area hospital, recovering from multiple gunshot wounds while his friends gather at a beachside coffee, desert and wine bar to raise money to help pay his medical bills.
"Now that it looks like he's doing well and will be able to recover, we're organizing a huge fundraiser at Grind & Grape," said Ryan Wykoff, a lifelong friend who launched a Go Fund Me campaign for Capak on Sunday.
"We're already getting items to auction off," he added. "We'll have a place where you can throw money into a jar. And we'll have something set up to show people how to use the Go Fund Me site.
"We'll also have East Harbor, the band that was supposed to play at Andy's wedding reception."
The wedding, though, was postponed after Capak, 31, one of The Grove Bar's owners, was shot outside the downtown Vero Beach night spot shortly before 2 a.m. Friday.
According to police, who described the shooting as an "attempted homicide," Capak was shot during an "altercation" that began with a disturbance inside the bar. Police provided no information as to what ignited the initial confrontation, nor did they release any details about the extent of Capak's injuries.
However, several sources who claimed to be familiar with the incident, speaking on the condition of anonymity, said Capak intervened when at least one of two or three men began harassing women inside the bar. The dispute became physical and moved outside the establishment, where it escalated into a shooting.
At least four shots were fired, the sources said, and Capak was shot twice in the torso and twice in the leg. He was still in the intensive care unit Monday night.
Vero Beach Police Department spokeswoman Anna Carden said Monday she could not confirm those accounts. Bar employees and witnesses said they were told by police to not talk to the news media.
Carden said detectives had interviewed as many as 10 witnesses and were continuing to talk to bar employees and patrons who were on the premises at the time of the incident, but as of Monday night, no arrests had been made in connection to the shooting.
Vero Beach police urged anyone with information to contact detectives, while Treasure Coast Crimestoppers, which allows tips to be anonymously phoned in, was offering a reward of up to $2,000.
"Now that there's a reward," Carden said, "we might have someone who can help come forward."
In the meantime, Capak's friends were doing what they could to help – financially and emotionally.
"I got a call at three in the morning and was one of the first ones to get to the hospital," said Wykoff, whose mother and stepfather, Barbaralee and Rick Monday, own Grind & Grape. "Eventually, as word got around, everybody got there.
"There's a group of us who all grew up together, played youth soccer together, went to St. Ed's together, graduated together . . . And a lot of us came back here after college because we love Vero Beach," he said.
"We've been friends since we were thigh high, and we all love Andy.
"Thank God he's alive."
Wykoff set the Go Fund Me goal at $250,000 after he and some of Capak's other friends tried to estimate the cost of his medical care. He said he was pleased with the early response to the campaign, which had raised more than $27,000 by Monday afternoon.
The Go Fund Me page includes a photograph of Capak in his hospital bed.
"I started this with the blessing of his fiancée and family because he's going to need help with these bills and I wanted to get the ball rolling," Wykoff said, adding that he didn't know if Capak's fiancee, Tiffani Atteo, would attend Saturday's fundraiser, which starts at 7 p.m.
"Judging by the response so far, it's evident how much Andy means to his friends and how eager the community is to help," he continued. "Not only does he have a lot of friends, but he's very well known around town – a respected businessman who was part of the downtown revival.
"I wouldn't be surprised if we break $250,000."