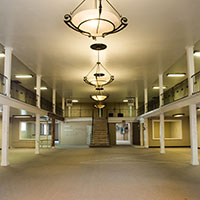 Buggy Bunch renovating old building in Vero's downtown
STORY BY BETH WALTON

The Buggy Bunch, which promotes itself as "the fastest growing mom's group in the State of Florida,"  has taken over the old Vero Furniture Mart at the corner of 21st Street and 15th Avenue with plans to renovate the building, transforming it into a community center with designated stroller parking.
The popular mother's club bought the Art Deco-inspired building, which was erected downtown during the post-WWII building boom, for $530,000. Interior demolition of the 9,000-square-foot space is set to begin this week with construction of new office and activity space following soon after.
The club, which was founded in 2009, offers a wide range of classes, activities, trips and support services for island and mainland mothers, said Executive Director Kelly Sartain. There are picnics, camping trips, cooking classes, exercise groups, play groups, financial literacy events, Bible studies and guest speakers. There are mom mentors, free diapers and teenage mother support groups.
"It's moms from all walks of life, from the island, from the mainland, from Fellsmere, Gifford, the Highlands and Sebastian," Sartain said. "[There are] old moms, young moms, grandmas, 13-year-olds with babies."
The one thing everyone has is common is motherhood.
The Buggy Bunch began when four new mothers from Indian River County got together to exercise and socialize after giving birth. As they walked back and forth across the Merrill Barber Bridge, they met other women in the same stage of life, and within eight months the group expanded to 500 mothers, all with different needs, abilities and resources.
Getting organized, the women formed a faith-based nonprofit organization to meet the needs of all the members. There were grandmothers wanting to donate their time and young pregnant teens needing support and advice, Sartain said. Some mothers couldn't afford diapers. Others were struggling to help their premature babies thrive.
Rapid growth continued and Sartain said the group now has 7,700 members.
Hundreds of people came to a recent diaper drive hosted by The Buggy Bunch, and the organization has a goal of giving out 100,000 diapers a year, she added.  
The Buggy Bunch launched a capital campaign in October 2016 to purchase the old Vero Furniture Mart and renovate the space. Its current 300-square-foot office near the intersection of 58th Avenue and 20th Street was no longer large enough for the staff of 15, Sartain said.
Meetings were taking place in restaurants and cafes to accommodate guests. Programs held at churches, businesses, community centers and parks were filling up so fast that interested participants had to be put on a waiting list.
"If you have your own space, you can have classes all day long every day of week and on Sunday," Sartain said.
Renovations include slight modifications to the exterior of the building and upgrades inside. The second-floor indoor balcony will be expanded to maximize space.
In the first four months of its campaign, The Buggy Bunch raised $1.2 million, mostly from island residents.  It's now up to $1.8 million in cash and pledges and is hoping the entire community will help them cross the finish line.
The goal is to raise $2 million, said Debbie Morgan, media relations manager for the group. Chances are everyone in the county has been touched by The Buggy Bunch in some way, she said. Either they know a mom involved or someone else who has benefited from the programming.
"(This building) is for the community," Morgan said.
For more information on The Buggy Bunch and renovation project go to: www.thebuggybunch.com.