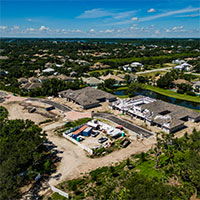 Construction can't keep up with island new home sales
STORY BY STEVEN M. THOMAS
Photo: New construction at Palm Island Plantation

Developers who took the lead in launching new home projects on the barrier island in 2015 and 2016 are now reaping rich rewards as buyers eagerly purchase townhouses and single-family homes at five luxury developments between the Wabasso Causeway and The Moorings.
The projects encompass about 80 homes priced between $840,000 and $3 million, and developers can't build them fast enough to keep up with sales.
Sandy Lane, the southernmost project in this group, is a prime example of the success homebuilders who moved quickly in the early stages of the real estate recovery are now enjoying.
As per normal, developer Dolf Kahle and builder Vic Lombardi have tried repeatedly to build a model home to stimulate sales at their carefully crafted one-street, seaside subdivision. So far, they have not been able to even break ground on one.
"Every time we draw up plans and get a permit, the house sells before we start it," says Kahle.
One year after building began, five of nine homes in the exclusive community have been sold and are either occupied or under construction. Just four lots remain.
Pre-construction prices in the 5.3-acre development started around $1.7 million, but have crept up over the past year to the $2.2-$2.5 million range, depending on the lot and floorplan a buyer selects.
There is one oceanfront house in the subdivision – it was the first to be sold and is larger than the others – and eight other homes with approximately 3,600 square feet of air-conditioned living space and another 1,200 to 1,800 square feet under roof. The concrete block homes have innovative floor plans and high-end finishes encased in traditional Anglo-Caribbean architecture.
Kahle says the sales process moves quickly in the now booming market, mentioning that a recent buyer "first saw Sandy Lane in February, signed a contract in March, and by April we were applying for the building permit."
A couple of miles north of Sandy Lane, George Heaton's Old Oak Lane subdivision in Riomar is seeing similar success. The 5.5-acre, 10-home subdivision is set into the golf course at Riomar Country Club and all homes have fairway views.
Five houses ranging between 3,500 and 4,000 square feet under air have been sold, according to Heaton's sales director Terry Thompson.
The stately single-family luxury homes, which sit on half-acre lots and feature 5 bedrooms, four-car garages and attached guesthouses, are listed for $2.5 million to $3 million. As an added perk, buyers get a membership in Heaton's oceanfront Vero Beach Hotel resort, so they can go swimming if they get tired of golf.
Even in the dog days of summer, Thompson says he sees dozens of interested prospects at his sales office each week.
Another mile or so north, spread along 400 feet of Atlantic oceanfront, are the 11 West Indies-style townhomes that make up the Surf Club development.
The homes have 3,200 square feet under air, 4,000 under roof, with private detached two-car garages, individual court yards, pools and separate guest suites. Top-quality standard finishes include hardwood and stone flooring, detailed millwork, superior cabinetry and fixtures and gourmet-level appliances. Amenities such as elevators and fireplaces are available as optional upgrades.
A year and half after breaking ground, the project is nearly complete and 9 out of 11 units have been sold at prices ranging from $2.5 million to $3 million, according to Premier Estate broker associate and co-listing agent Kay Brown.
Surf Club developers Katherine McConvey, Vic Lombardi and Clark French bought the 2.56-acre property in March 2015 for $7.95 million and quickly knocked down the aging motel that occupied the site. After site work and permitting was complete, construction began in February 2016. Lombardi's Waters Edge Estates is the builder. Construction financing is being provided by Harbor Community Bank.
Next comes South Shore, a 30-home addition to the River Club community being built by Beachland Homes Corporation, an Arthur Rutenberg Homes franchise.
Single-family homes in this subdivision five miles north of Surf Club range from 2,800 to 4,000 square feet in size and are priced between $1 million and $1.5 million.
Even though Beachland president John Genoni only broke ground on the infrastructure phase of South Shore in October 2016, nine of the 30 homes have already been sold.
"Progress has been great," Genoni says. "It is better than we expected."
Right next door to River Club is Palm Island Plantation, where the community developer is selling courtyard and carriage homes at a rapid clip.
The 20 new courtyard homes, which include 2,325 to 2,642 square feet of air-conditioned living space with approximately 3,400 square feet under roof, are being offered for $840,000 to $870,000. The project broke ground late last year and nine units have already been sold.
Along with some of the most appealing architecture on the island and fine-quality craftsmanship, courtyard home buyers will get great community amenities, including complete exterior maintenance and yard care and membership in the Palm Island Beach Club. There is also a marina with docks, a fitness club and two pools.
In-fill carriage homes priced around $1.3 million are also selling quickly in the community, according to Palm Island Broker Steve Owen.
"Our activity has been outstanding," says Owen. "We have been extremely busy for the middle of the summer with great buyer traffic.
"We have no standing inventory at all. None left."
All the island developers agree that a lack of new home inventory is supercharging their sales.
All the developers agree on something else, too: Every one of them says they wish they had more land on which to build.