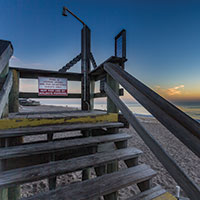 Driftwood sued for negligence over fall from deck
STORY BY BETH WALTON
Photo: The outdoor deck where a small boy fell through a gap in the railing.

Summit Hotel Management, which operates Vero's historic Driftwood Resort, has yet to counter punch in a mounting legal battle with a former guest.
Florida resident Michael Buttress sued the hotel for negligence last year, alleging he fell from the property's oceanfront deck in May 2014 while attempting to rescue his toddler son who tumbled through a gap in the railing.
Judge Paul Kanarek last Wednesday granted Buttress' motion for a default judgment after Driftwood's management company failed to respond to the December 2016 filing.
Brevard County Sheriff's Office served the Indialantic-based company with the civil action summons March 17, 2017, according to an affidavit filed with the court.
Yet, the management firm made no legal response to the complaint or a July 5 hearing notice, leaving Buttress' lawyer to advocate for his client in front of a judge last week alone and without dissent.
The defendants now have a small window of time to obtain a relief from judgment and regain the opportunity to litigate the case.
Driftwood Resort General Manager Jean Radlet seemed to be unaware of the lawsuit when contacted by Vero Beach 32963 last week and declined to comment for this article.
Summit Hotel Management Company did not respond to a request for comment.
"Mr. Buttress and his family were patrons of The Driftwood and had gone down to the beach with their children," said Gregory Huber with Zele Huber Trial Attorneys in Jupiter.
"Afterwards, while Mr. Buttress and his family were cleaning up at the shower on the Driftwood deck, his 16-month-old son fell through the gap in the railing creating an emergency situation which Mr. Buttress, as a loving father, instinctively responded to."
The child was not hurt, but his father struck his head and injured his neck so seriously he required surgery, Huber said. At the time, the accident was reported to hotel staff and the Indian River County Fire Rescue responded, he said.
County records confirm Fire Rescue responded to the incident. No one was taken to the hospital at that time, but Huber alleges Buttress' injury resulted in pain, physical impairment and mental anguish. There were medical expenses and lost earnings as a consequence.
In his complaint for damages in excess of $15,000, Huber argues that Summit had a duty to provide reasonable care and ensure its facility was safe for all guests.
Huber wrote there was no warning the guardrail was faulty, and alleges it wasn't being inspected or maintained properly.
"We are alleging that a dangerous condition was created on The Driftwood premises by having ineffective/improper railing around the deck despite the fact that there is a considerable drop to the ground and it was foreseeable that children would be in the area," Huber said.
"If the dangerous condition had not been created, the emergency situation – a child falling through the railing – never would have occurred and Mr. Buttress would not have been seriously injured trying to rescue his son."