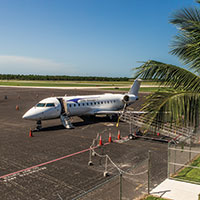 Elite suspends some fall flights due to low demand
STORY BY RAY MCNULTY
Photo: An Elite Airways jet on the tarmac at Vero Beach Regional Airport.

Four months ago, island resident Bruce Galvin purchased a pair of $400 round-trip tickets from Elite Airways, so he and his wife could fly from Vero Beach to Newark, N.J., and then catch a cruise ship that would take them on a scenic, September voyage to Quebec City.
Two Sundays ago – a mere month before their scheduled departure date – an Elite representative called to tell the Galvins their flights had been cancelled.
They weren't alone.
Elite has cancelled all of its Sunday and Thursday flights scheduled to take place between Vero Beach and Newark during September and October. According to the airline's website, the non-stop service is scheduled to resume on Nov. 2.
The airline continues to offer Monday and Friday service on the route, which remains Elite's most popular.
Elite Vice President David Dow described the cancellations as a "seasonal adjustment," citing a "reduced demand" for service on that route during the off-season months.
"All we did was reduce our schedule on a seasonal basis, which is something we do all the time," Dow said. "When you're running a business, you have to adapt and adjust to demand. If we didn't, we wouldn't be in business long. It's micro-economics.
"Vero is a wonderful market for us," he added. "Vero has been very good to us, and we plan to expand our service there to other destinations, possibly as soon as the fall. But we're still figuring out how the seasons work there.
"As our relationship with Vero goes longer and longer – and we get a better understanding of that market – we'll get this stuff right."
Dow said it's possible, if not likely, the Sunday and Thursday flights connecting Vero Beach and Newark won't appear on the airline's September and October schedule next year.
Dow also said he was unable to provide the number of travelers affected by the cancellations, adding that some were re-booked onto Monday and/or Friday Elite flights and others, whose travel dates weren't flexible, were offered refunds.
"I know some people are upset about it," he said, "and I understand why."
Vero Beach Regional Airport Director Eric Menger was empathetic to both sides, saying bookings were noticeably down for September and October, so Elite officials made a business decision to re-deploy their crews and equipment to services, such as charter flights, that produce a profit.
He said he also has heard from customers "who aren't very happy" that their flight plans – some of them booked well in advance – were scrapped only weeks before their scheduled departure.
Galvin said the cancellation "jammed us up," because he thought all the arrangements had been finalized.
"Then we get a call at 10 o'clock on a Sunday night and, just like that, we've got to start over and we're scrambling to find another flight up there," Galvin said. "We managed to do it and everything is falling into place, but it's going to cost me $500 more and it's going to be a lot more inconvenient."
Instead of a 9 a.m. Elite flight out of Vero Beach, the Galvins will be taking a 9 a.m. United flight out of Orlando – after a 5:30 a.m. Uber ride that will cost $350 and paying another $100 to check luggage.
Vero Beach City Clerk Tammy Bursick also received a cancellation call from Elite, but her travel schedule wasn't nearly as rigid and she simply switched her return flight from Sunday to Monday.
"It actually worked out better for me," Bursick said. "I'm going to a church retreat in New Jersey and I'm now able to stay another day."
Galvin didn't have that luxury.
"I understand the business side and they said I'll get a refund, but there was no apology, no compensation, nothing," he said. "Not even a coupon for a free meal at C.J. Cannon's."