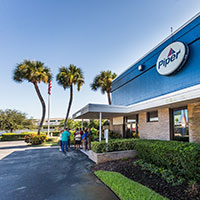 Piper profits up; Vero company is once again hiring
STORY BY RAY MCNULTY

Two years after Piper Aircraft Inc. cut 115 employees from its payroll – 78 were laid off and 37 opted for early retirement – the Vero Beach-based company's workforce is now slightly larger than it was before the reductions.
And Piper executives plan to continue hiring to meet an increased demand for its products.
"We have been hiring 10 people a week since mid-June, and we are continuing to hire through the remainder of the year," Jackie Carlon, Piper's senior director of marketing and communications, said last week.
"We are actively looking for candidates for multiple functions, but, most critically, aircraft workers, sheet-metal workers and welders," she added. "Interested individuals may apply at piper.com/careers."
As of Friday, Piper employed 762 people – two more than it did in July 2015, when, citing sagging worldwide sales, the company announced plans to slash 15 percent to 20 percent of its workforce.
Carlon said a larger workforce was needed because the company continues to experience an increase in the sale and delivery of its new M-Class products – particularly the M500 and top-of-the-line M600 single-engine turboprops – as well as its trainer aircraft.
Piper announced last week that its second-quarter revenues reached $52.1 million with the delivery of 32 aircraft. That's an increase of $10.7 million, or 26 percent, from last year's second-quarter numbers.
Even more impressive, Carlon said Piper's profits through the first half of this year were up nearly 100 percent over last year's first-half figures, jumping from $37.8 million to $75.5 million.
"It's an exciting time for the company," she said, adding that Piper's strong showing results in large part from the increasing popularity of its high-end M-Class line, led by the $2.8 million M600, a single-engine, six-seat business aircraft approved by FAA last summer.
The M600, in which Piper invested 100,000 hours of engineering time, is powered by a Pratt & Whitney engine and comes equipped with an advanced Garmin Avionics electronics and guidance system. With a range of 1,500 nautical miles, the plane can fly non-stop from Miami to New York or from Los Angeles to Seattle without refueling.
"The M600 sales have a huge impact on our bottom line, and we're also seeing the delivery of trainers rise considerably," Carlon said. "The trainers give us volume, and the turboprops lift revenues significantly."
More than three times as many of Piper's Archer training aircraft were delivered during the second quarter as compared to the second quarter of 2016, marking a whopping, 228 percent year-over-year increase and creating a sales backlog that stretches into the third quarter of 2018.
"Our commitment to a common-sense, made-to-order approach has been a key differentiator and is contributing to Piper's success in this 'new normal' market that we are all talking about," Piper President and CEO Simon Caldecott said.
He later added: "The addition of the class-leading M600 continues to drive revenue growth. ... Furthermore, Piper's offering of the only complete trainer product line is helping further augment sales and long-term commitments from some of the world's leading flight-training programs."
Ten U.S. flight schools have recently signed contracts to purchase Piper Archer, Arrow and Seminole training aircraft: Oklahoma State University, Western Michigan University, Southern Illinois University, Louisiana Tech, Middle Georgia State University, Vincennes University, LeTourneau University, California Baptist University, Big Bend Community College and Aerosim Flight Academy.
That list doesn't include the University of North Dakota and Jacksonville-based ATP Flight School, both of which already have long-term agreements with Piper.
In July, ATP, America's largest flight school, ordered 10 additional Archers to complement its trainer fleet, which eventually will include 100 Archers and 100 Seminoles. ATP is scheduled to take delivery of its 82nd Archer this month.
Carlon said the increased sales of trainers has been driven by a worldwide pilot shortage that has left airlines "in need of entry-level pilots" and prompted some of them to partner with flight schools.
The M-Class line sales, meanwhile, has benefited from a strengthening economy. Caldecott said Piper's recent M600 "demo tour" of Europe and Africa produced "better than expected" sales.
Carlon said five M600s were sold in Europe and several more were pending.
"The market over there had been soft, so the demo tour was very encouraging to us," she said. "We've got deals in the works that we expect to come to fruition over the next three to 12 months.
"So while there's still a ways to go and there's still uncertainty in the market, a stronger economy certainly helps."