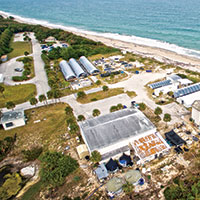 Sale of FIT Marine Lab property has potential to be big win-win
STORY BY LISA ZAHNER
Photo: Looking north: The FIT Marine Lab property adjacent to Tracking Station Beach Park.

The County Commission has submitted a proposal to purchase the defunct Florida Institute of Technology Vero Marine Lab property to expand Tracking Station Beach Park, but the parcel and an adjacent sliver of valuable oceanfront land the county already owns might end up being part of a bigger deal.
In addition to more parking, grills, pavilions, playground equipment and direct access for emergency vehicles, the county's proposal includes the idea of public outreach and environmental education, "similar to the previous Florida Institute of Technology use for the Marine Laboratory property."
There were no details about who would operate or staff this facility, which would "display and exhibit educational materials and other resources related to sea turtles, oceanfront lighting, beach renourishment, coastal ecology, etc," but Brown said the facility could also "provide a permanent central site for the countywide sea turtle program that monitors thousands of nesting sites daily during nesting season."
Conditioned upon two appraisals and some environmental assessments, the county offered $1.5 million for the 4-acre FIT parcel, appealing to any desire that Florida Tech might have for the land to return to public hands – hoping that aim might outweigh the goal of greater economic gain.
To prove the county can afford the purchase, Brown included a schedule showing that, as of the close of the 2016 fiscal year, the county had $106 million in unrestricted reserves.
Another possible bidder for the FIT property is Naples-based Lutgert Companies, which purchased the nearby 5.2-acre oceanside parcel auctioned off by the Town of Indian River Shores earlier this year for $4.8 million.
The county obviously wants a good portion of the FIT property for itself, to achieve its park-related goals, but Assistant County Administrator Mike Zito said it could also be a win-win situation if Lutgert outbids the county. 
Zito toured the Florida Tech property along with executives from Lutgert. Should Lutgert end up with the property, he said county officials would possibly entertain the idea of a "Windsor-Golden Sands-type deal" with the developer.
Windsor, a luxury community that wanted to expand its oceanfront development, owned two non-contiguous beachside parcels separated by the old Golden Sands Park. Windsor paid the county $1.1 million to swap parcels and then built the county a beautiful new Golden Sands Park as part of the deal.
What might Lutgert want that the county owns? The long triangular-shaped strip of land that lies between its recently purchased 5.2-acre parcel and the Atlantic Ocean.
The county owns the dunes and the beach that separate Lutgert's land from the ocean and acquisition of that strip by Lutgert would mean its planned development would become much more valuable oceanfront property, with beach access for each home or each building, should they develop a multi-family community instead of a single-family community.
Lutgert Senior Vice President Mike Hoyt, who is managing the Indian River Shores project, would not say whether Lutgert submitted a bid to FIT or, if so, how much it was. "I really don't want to comment on land that we do not own," Hoyt said Monday afternoon. "But I will say that we reviewed the property."
Hoyt said Lutgert is making progress on plans for the new luxury community, and that decision-makers are "getting close" to determining whether to build single-family homes or multi-family condos or townhomes. Just last week Lutgert retained Dale Sorensen Real Estate for exclusive marketing rights to the planned community.
In summary, the outcome of this potential county/Indian River Shores/Lutgert deal could be an enlarged, more valuable, true oceanfront residential enclave and a new, improved and possibly larger Tracking Station Park.
Former Florida Tech President Anthony Catanese had denied the university had any interest in selling the land to developers, but county officials say the new president, T. Dwayne McKay, who took over in July 2016, is more attuned to the property's value and to what the influx of cash could do for Florida Tech, its students and its long-term goals.
While Catanese came to Florida Tech from a state-funded school, Florida Atlantic University, McKay has been with Florida Tech, a privately funded institution, for 14 years in various executive capacities.
Florida Tech spokesman Wesley Sumner told Vero Beach 32963 last month that the university has received multiple bids on the 4-acre property, which is located behind the 7-11 on A1A, adjacent to Tracking Station Park, and has an appraised value of $2.1 million.
Staff writer Rusty Carter contributed to this report.