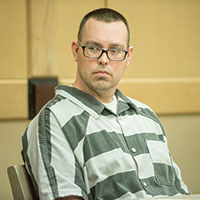 Trial still not near for accused killer of nurse Diana Duve
STORY BY LISA ZAHNER
Photo: Accused killer Michael David Jones.

More than three years after Sebastian River Medical Center nurse and Moorings resident Diana Duve was found dead in the trunk of her car, defense attorneys for accused killer Michael David Jones, her former boyfriend, are nowhere near ready to go to trial, and Judge Cynthia Cox is getting impatient.
The state has released 52 batches of case evidence, thousands of pages of medical records and witness interviews, which all fall under the broad term of "discovery," as is required by law so the defense has time to prepare its case for trial.
The defense has not released a single document or the names of any potential witnesses to the state.
"I have nothing to give them," Assistant Public Defender Stanley Glenn told Judge Cox at Monday morning's hearing on the state's motion to compel the defense to hand over its discovery documents. "I can't give them what I don't have," Glenn said.
When asked for good cause, Glenn said he'd only taken over the case in February 2016.
Cox inherited the case from Judge Robert Pegg in December 2015 due to a routine reassignment of judicial areas of responsibility.
"So after a year and a half, how long is it going to take to discover what you need to discover to get this ready to go to trial?" Cox asked, adding that she needs Glenn to show "good cause" for any further delay.
"You can't just take as long as you want," she said. After the defense turns over its witness list and other evidence to prosecutors, Cox said, "We're still looking at about six to eight months for the state to do their part."
According to court records, Glenn is the third attorney to be listed as in charge of Jones' defense.
Other public defenders have assisted as well, and worked with defense attorneys in Broward County on charges Jones faced there in September 2015 and March 2016.
Jones has been in custody since he was arrested on June 26, 2014, when police found him in a hotel room in Fort Pierce in violation of his probation on a Broward County aggravated stalking charge. Vero Beach police detectives built the murder case against Jones and he was indicted on first-degree murder on Aug. 26, 2014.
Chief Assistant State Attorney Tom Bakkedahl argued on behalf of State Attorney Bruce Colton's office that this situation is unacceptable, and puts lead prosecutor Brian Workman in an untenable position. Once the defense completes its final deposition, the public defender could invoke speedy trial provisions and force the clock on the state to try the case.
"This completely defies common sense," Bakkedahl said, adding it is very hard for him to believe "that the defense hasn't got even one shred of paper."
Glenn explained that he has not yet decided which experts or which witnesses he will call, and that it could be prejudicial to give the state a crack at deposing people who could reveal new, unfavorable information about his client. The state, on the other hand, is required to reveal both condemning and exculpatory evidence, interviews and witnesses, under Florida law.
Bakkedahl said the defense has interviewed scores of people, including all of Jones' family members, and also told Cox that Jones' father claimed that someone from the public defender's office told him not to talk to the state's investigators. "My point is that they know who they're going to call," Bakkedahl said.
The delay of justice in this case, Bakkedahl said, puts a continual strain on everyone who loved the victim, who was 26 years old at the time of her death.
Duve's mother and stepfather, Lena and Bill Andrews, were in the courtroom, accompanied by the State Attorney's victims' advocate. "I've got a waiting family who has been sitting and toiling under the court system for about three years," he said.
Cox instructed Glenn to pick up the pace and placed the attorneys on a schedule of meeting about once per month to report on the status of the case. It was also agreed that Glenn would file any motions challenging the state's pursuit of the death penalty by Nov. 30 to give the court a chance to rule on those in advance of a trial.
"There has to be something that you have that you can discover. I need good cause," Cox told Glenn, giving him one month to start trickling out his witness list and other documents. She told him he needs to at least say what types of expert witnesses he intends to call and what, in general, they may testify to. She said she doesn't need names, but that the state must have something to go on in case it needs to counter that testimony with its own expert witnesses.
Jones had been transported to the courthouse, but he verbally waived his right to appear in court on Monday because the Sheriff's Office could not accommodate his request to change into business attire at the jail prior to being transported to the courthouse.
Glenn said his client does not wish to appear in the orange jumpsuit because it is prejudicial every time he appears in "jail garb."
Defendants wear street clothes during a trial or anytime potential jurors are present, typically getting dressed at the courthouse, but during procedural matters like Monday's motion, the jumpsuit is standard for security reasons.