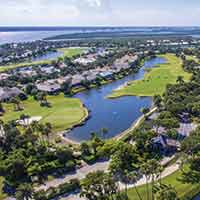 Former Orchid town official pleads guilty to securities fraud
STORY BY BETH WALTON

Former Orchid Town Council member Thomas Buck must appear in federal court next month. Buck, 63, agreed Oct. 31 to plead guilty to securities fraud following an extensive investigation by the FBI, according to the U.S. Department of Justice. He could face 25 years in prison.
For more than three decades, Buck, who has a northern residence in Carmel, Indiana, was a registered financial advisor with Merrill Lynch and other firms, according a statement from federal prosecutors in Indianapolis.
He counseled thousands of clients on their investments, it says. 
Buck charged excessive commissions and intentionally failed to advise his clients of cheaper pricing options, defrauding them of some $2 million, the DOJ alleges.  Officials there worked with the FBI, Merrill Lynch and individual investors to understand the alleged scheme and gather evidence.
"These are not victimless crimes. These are crimes that can wipe out a family's life savings and leave their financial future in ruins," W. Jay Abbott, special agent in charge of the FBI's Indianapolis Division, said in the statement.
The Securities Exchange Commission also brought a civil complaint against Buck. A $5 million settlement was announced the same day the DOJ reported Buck would plead guilty in federal court.
Buck resigned from his town council post Oct. 24, one week prior to the DOJ's announcement. He was charged Sept. 6.  Buck was elected to the civic body last November, running unopposed in the 2016 election.