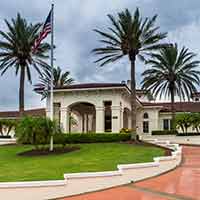 Grand Harbor members: 'A lot of good things underway'
STORY BY RAY MCNULTY

The holiday season isn't the only reason Grand Harbor Golf and Beach Club residents and members are feeling a bit more cheer these days.
They're also optimistic about the changes they've seen recently throughout the country-club community on the mainland's waterfront.
"There are a lot of good things underway," Grand Harbor resident John Gammino said. "Whether the developer follows through or not, we'll see. But, generally speaking, I think people are feeling more positive now."
That wasn't the case six months ago, when frustrated residents were publicly grumbling about Grand Harbor's management, citing the cancellation of a wildly popular, summer-reciprocal agreement with local clubs, the halting of golf-course improvements and the failure to follow through on other promised community enhancements.
Residents also shared concerns about staff turnover that had seen the departures of longtime tennis director Christophe Delavaut, golf-club personnel and chefs.
Some residents, including Gammino, were so upset that they voiced their criticisms to Vero Beach 32963, which chronicled their complaints in a front-page story in June.
The news story quoted a May 25 letter written by the presidents of Grand Harbor's four golf associations, which represent nearly 550 active golf members, to the community's Massachusetts-based developer, Bayswater Development LLC, to express "dismay and disappointment" over the decision to cease improvements to the club's Harbor Course and suspend plans to expand the adjacent practice facility.
In the letter sent to Bayswater president Joseph Colasuonno and copied to the club's general manager, Jason Frandsen, the associations questioned management's actions, which they said "suggest that the developer is uncaring, unreliable and unresponsive to the concerns of members who already have invested considerable resources in Grand Harbor."
It appears Bayswaters executives – as well as Icahn Enterprises, billionaire Carl Icahn's New York-based conglomerate, which owns the Cape Cod real estate company – got the message.
"A combination of things happened that led the powers-that-be to realize there were some unhappy campers down here," Grand Harbor resident Doug Sweeny said. "Maybe it was the letter. Maybe it was the newspaper article. Somehow, word got to Icahn's headquarters in New York."
And things began to change.
Frandsen sent a letter to Grand Harbor members in September, informing them that the summer reciprocal agreements with other Vero Beach-area clubs would be reinstated, the increase in annual dues would not be as large as projected and work would resume on the promised golf-course improvements and clubhouse enhancements.
In October, residents were happy to see workers refurbishing the golf-cart bridges, expanding the golf club's practice area, redecorating the main clubhouse, renovating the beach club and enhancing the fitness center.
With work already completed on the new tees on the Harbor Course, both of Grand Harbor's golf courses are now fully available for play. The new and improved practice area is expected to open soon.
In addition, the club has hired a new food-and-beverage manager and new chef.
"If you took a snapshot five or six months ago, you'd see people frustrated and unhappy and grumbling," Sweeny said. "Now, you'd see something considerably different. People are more upbeat. They're seeing things change, and they're encouraged by it."
Perhaps the greatest cause for optimism is an apparent change in management's attitude.
"There seems to be a willingness to get member input," Sweeny said, "and if the people in New York have a better understanding of Grand Harbor, that's a win-win for everyone involved."
Last month, in fact, Colasuonno and Frandsen met with an ad hoc committee of 36 Grand Harbor residents to discuss a "Vision 2020" project to address the members' needs and wants.
Sweeny, the committee's chairman, said the focus group assembled a prioritized list of improvements, additions and expansions members would like management to address during the next three years.
"Just as we were finishing up that work, the Icahn group created a new executive position – president of club operations for both Grand Harbor and The Club at New Seabury on Cape Cod," Sweeny said. "And they didn't just create the position, they filled it with a proven, high-powered talent.
"The guy has very strong credentials."
The guy is Chris Card, who spent the past two years as the general manager and chief operating officer at BallenIsles Country Club in Palm Beach Gardens. From 2009 to 2012, Card was the golf club general manager and golf director at Trump Turnberry in Scotland.
"He knows what he's doing," Sweeny said, "and he knows what needs to be done."
Frandsen, who could not be reached for comment for the story in June, did not return multiple phone messages left at his office last week.
However, both Sweeny and Gammino said they believe the surging national economy and booming local real-estate market contributed as much to Grand Harbor management's change of heart as did the members' public complaints.
Sweeny said Bayswater wants to build another 240 homes on the property – specifically in The Reserve, River Village and The Falls sections of the community.
"If you look at some of the high-end homes being built in Vero, they've got plenty of room to build and a good reason to invest in the development," Gammino said.
"This is fertile ground."
Gammino said Bayswater is scheduled to transfer ownership of the club to the members in December 2020, but he believes that date could be pushed back if the community isn't fully developed.
In the meantime, he said, Grand Harbor residents are feeling good about the trends they see.
"We're in transition," Gammino said. "I'm not sure what we're transitioning into, but it's a totally different picture than it was last summer. Some positive things are happening, so I'm optimistic – cautiously optimistic."
And for good reason.
"I don't want to be naïve," Sweeny said, "but the fact that Icahn has put such an impressive guy in charge of the clubs is a good sign."